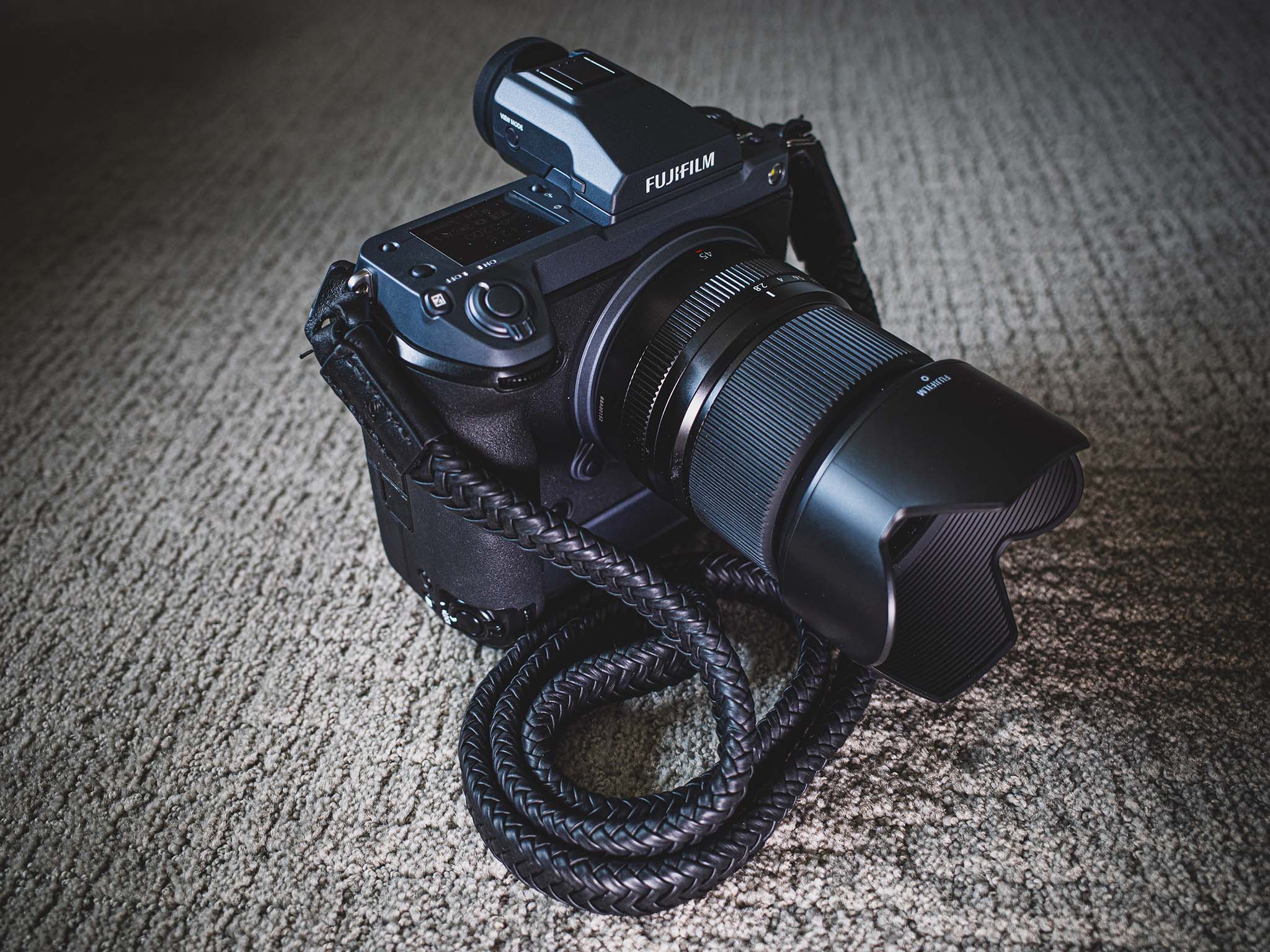 The Past few weeks we had an offer in our deals post from Vi Vante that ends today for their rope camera strap. Vi Vante's Rope Camera Strap would not be ideal for the GFX100 according to the manufacture, but the Matador will be a better fit. I recently met with the owner of the company to check out some of their products and the rope camera strap does have a very nice springy feel to it unlike other rope based neck straps I own that cost more.
Vi Vante Sheetline Camera Strap Press Release
"The New Vi Vante Sheetline Camera Strap is a uniquely designed strap at an affordable price point.

The strap has built in tension relief with it's unique design. It consists of an outer sheath that's designed to make it look like a rope strap, while adding comfort and softness. The Inside of the strap has 5 total ropes underneath the soft outer skin. On lighter camera setups it give a springy nice feel but can easily handle heavier camera combinations as well, still relieving tension with the design.

The ends of the Sheetline are designed with extreme attention to detail, they are made with supple Napa Italian leather, finished edges, and electroplated mounting rings. An extra set of electroplated mounting rings are provided with every Sheetline Camera Strap. The Strap is 47 inches long / 120cm long recommend cross body carry.

The name Sheetline comes from Sailing. A Sheetline isn't just rope, it's a rope with a specific purpose. Vi Vante has currently three colors to choose from; Black, Arctic Fox, and Aqua Blue."
When I purchased the GFX50S I hoped that all of the accessories I bought to use with it would be useful for years to come, so I put a decent amount of money into a Tap & Dye neck strap with Hasselblad clips on it and Think Tank Signature Series 13, but Fujifilm changed the GFX100 so much that I had to start looking again for a new bag and neck strap to carry my GFX100. This is not my favorite activity, and I know many like to travel light, but I like to take everything I might need with me to a shoot.
Today I received some images of the Matador and the Fujifilm GFX100 taken by Ashwin Rao that I think look pretty good. I planned to use the Matador myself and it looks like it pairs nicely with the Fujifilm GFX100. I wish Fujifilm kept the quick release lugs from the GFX50S, because I really like the quick release feature, so hopefully I won't miss it too much on the GFX100.
I also need a new bag with a different layout inside for the Fujifilm GFX100 and will be trying the Vi Vante "Daily Driver" Full Size Waxed Canvas and Leather Bag, which you can currently save $90 off. They also have some quilted bags that are more expensive and luxurious, but I prefer a plain finish. The Think Tank 13 is a larger bag, but the way it is laid out inside doesn't provide the space that I would want inside the bag that the Daily Driver should, but we will see once I have everything in hand.
If you remember a few months ago Vi Vante had some pretty big discounts on their products, which got me interested in the brand. According to the owner they are a small brand that tries to design products without compromise for photographers that are not happy with a lot of the over priced brand name accessories on the market.
From the products I have seen and handled the claim is not unfounded, which is why I decided to use their product with my new GFX100, so check them out for yourselves and check back in the future as I report about how they hold up for me. I am pretty rough on my bags/straps and have had many Artisan & Artist bags and neck straps fail beyond repair over the years, which is why they are no long my go to brand (Artisan & Artist made no effort to make these failures right either). Maybe Vi Vante will become my go to from now on if their products hold up and continue to evolve to suite my needs.

Follow Fujiaddict on Facebook, Twitter, Instagram, and YouTube
Fujifilm GFX News, Rumors, and Collaboration
Fujifilm GFX Owners Group
Fujifilm GFX Page