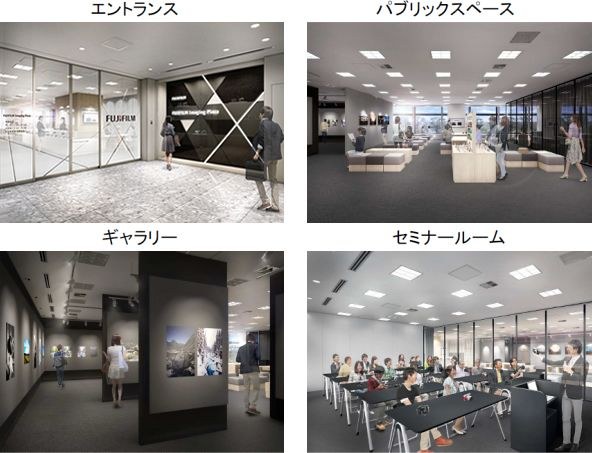 Fujifilm opens "FUJIFILM Imaging Plaza" that delivers the appeal of digital cameras on April 28
Gallery, professional service and seminar room are also available
Fujifilm Co., Ltd. to open in Tokyo at Marunouchi in digital camera new transmission facilities, such as the product "FUJIFILM Imaging Plaza" April 28 (Saturday).
A place to promote their digital camera "X Series", "GFX Series" and the exchange lens of Fujifilm, in addition to the Touch & Try Corner of products, seminar rooms and galleries are also features.
There is also a base for membership-based support services for professional photographers "FUJIFILM Professional Service (FPS)", for the first time carry out on-site maintenance to perform, such as equipment inspection.
A photo studio that can experience lighting and tether shooting is also available.
At the photo exhibition site "FUJIFILM Imaging Plaza Gallery", as a celebration of the opening, "Photography, X, and I" will be held.
Movies exhibitors, Masaaki Aihara, Shoichi Asaoka, Yasutaka Kada Italy, IgaTakashi, Inagaki Tokubun, Imaura Tomoki, Uchida Yukio, Shinichi Eguchi, Yoko Okamoto, Mineko Orisaku, Kasai Shika示, Kawasumiko, Hideki Kono, Minoru Kobayashi, Hitomi Komatsu, Shiro Sano, Hajime Sawatari, swan Shintaro, Koji Seo, Mikiya Takimoto, Yoshihiro Tatsuki, Kiyoshi Tatsuno, Tatsuya Tanaka, Masami Tanaka, a straight-Tsuda, Miki Tsunoda, Nakamura Seiichi, tree-lined Takashi, Mika Ninagawa, Ken Noguchi , Noba Hiroshi, Nobusu Kiichi, MS Park, Hervey Yamaguchi, Shiro Hagiwara, HASEO, Shinichi Hayashi, HABU, Yoshiaki Hayashi, Yasutaka Hirama, Yasuo Hirakawa, Ichiro Fujisato, Ryota Fujimaki, Daisuke Fujimura, Akira Maeda, Masataka Matsutoya Tanzō San, Yoshinaga Yoichi, Yoshimura Kazutoshi, Watanabe Noriyuki (honorific title omitted).
Located on the third floor of Marunouchi MY PLAZA, which overlooks the Imperial Garden. Facing the Marunouchi Naka-dori, it is lined with brand shops, in recent years, a place that in the eyes may be the figure of foreign tourists.
Fujifilm has opened "FUFJIFILM SQUARE" with galleries and service bases within Tokyo Midtown in Roppongi in 2014. There is a "X Gallery" exhibiting photographic works taken on the X series after opening, but there are cases where it is adjacent to the headquarters, and if anything it is a facility that shows the overall picture of Fujifilm and .
On the other hand, FUJIFILM Imaging Plaza, which opens this time, is likely to become a place to appeal more X and GFX.
Location
Marunouchi MY PLAZA 3rd floor, 2-1-1 Marunouchi, Chiyoda-ku, Tokyo
Open
April 28, 2018 (Saturday)
Business hours
Weekdays: 11:00 to 20:00
Saturdays, Sundays and public holidays: 10: 00 – 19: 00
* Open all year (not including New Year's holidays)
* The last day of the opening commemorative photo exhibition "Pictures · X · and I" is 16 Until the hour 00
via DC.Watch