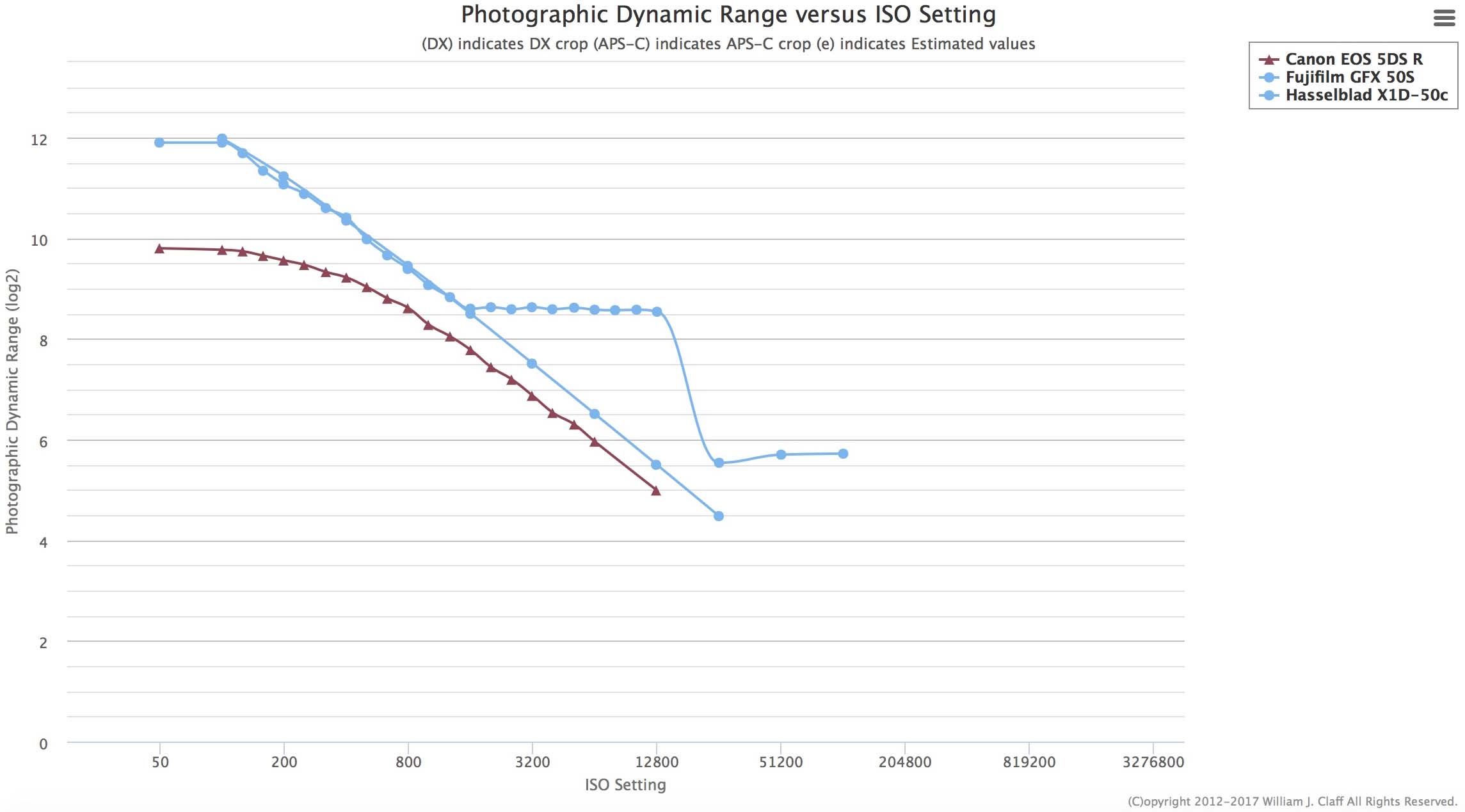 Photons just added the Hasselblad X1D and the results are a little surprising. Starting at base PDR the X1D scores 11.98, while the Fujifilm GFX 50S scores 11.90, but from there they go back and forth until 1600 ISO, where the X1D scores 8.50 and the GFX 8.60. Past 1600 ISO the X1D continues to drop, while the GFX remains around 8 until using the push ISO of 25,600. This is where things get interesting in my opinion because the X1D still falls behind the GFX with a PDR of 5.5 compared to the GFX with 5.54. Very interesting results to say the least. It looks like these cameras are going to come down to the glass you are shooting, unless you are using high ISO. It's also interesting to note that the Canon 5DS R never catches the GFX or X1D. You can manipulate the results here.
Fotografbank – If you're looking for more than a dynamic range comparison then check out how the image quality of the Fujifilm GFX 50S compares to the Canon 5DS R.
Fujifilm GFX 50S vs Sony a7RII – The comparison is in German and the sub translation isn't great so I'm just posting a link if you want to check it out. They shot test charts and images to compare, which are worth a look.
Fujifilm GFX 50S Test and Review – Yet another non-english video, but some of the photos from this are in our Fujifilm GFX Owners Group.
Join our Fujifilm GFX Owners Group and join in the discussion, also follow the GFX Owners Page to get more tailored news on Facebook and join Fujiaddict on Facebook and Twitter.
Fujifilm GFX 50S: B&H Photo / Amazon / Adorama
Hasselblad X1D-50c: B&H Photo / Adorama
Canon 5DS R: B&H Photo / Amazon / Adorama