DC.Watch posted 117 new photos of the GFX online today. I grabbed some of the more interesting  new ones to share.
From Left to right and then the second row: Adapter for attaching FUJIFILM GFX 50S to a 4 × 5 view camera, view of the EVF cover attached, EVF Tilt adapter, cable lock, neck strap, RGB Histogram view. Some of the 117 are just product shots, but some are new.
As for HSS…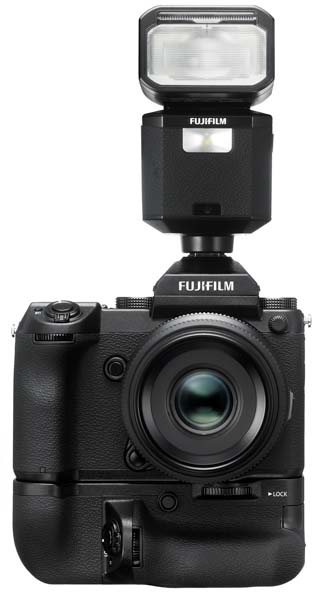 I predicted the Fujifilm EF-X500 would have TTL and HSS support along side the Fujifilm GFX launch from the way they showed them together at the launch event and Morethanwords.be confirmed HSS support in their review, so my purchase ended up being a wise one.
 I'm also happy to hear that HSS support is available with the EF-X500 flashes and the next time I have a GFX at hand, I will try if the Cactus V6 Mark II, which offers HSS with other brands' speedlights and even studio flashes on the other X-series cameras (see this blog post), will also perform that same magic with the GFX. -Morethanwords.be
Hopefully other flashes that work with the Fujifilm X-T2 work with the Fujifilm GFX like the EF-X500 does at launch.
Fujifilm GFX B&H Photo/Amazon/Adorama
Fujifilm EF-X500 Flash B&H Photo/Amazon/Adorama
via DC.Watch