Looks like Cameraworld wanted to get a jump on preorders…
Update 5:00 A.M EST: I started review/preview/hands-on rolling post and pre-orders are now available.
Press Release:
FUJIFILM have announced the ultimate mirrorless digital camera FUJIFILM X-T2 that delivers creative perfection. The Fujifilm X-T2 offers outstanding image quality with FUJIFILM's colour reproduction formulated over 80 years, advanced AutoFocus functions and 4K high definition video.
On September 8th 2016, the company will release the FUJIFILM X-T2 – the ultimate mirrorless digital camera that uses advanced technologies to achieve premium image quality, outstanding operability and beautiful design reminiscent of traditional cameras.
The successor to the extremely popular X-T1, the Fujifilm X-T2 builds upon solid foundations to become the flagship DSLR-Style camera from Fujifilm. As part of the 5 Year Anniversary of the X-Series, the X-T2 is not only beautiful to hold, but rightly deserves it's place as the premium camera for those who want both style and substance to the Mirrorless Range.
The Fujifilm X-T2 combines the sensor and image processing engine developed by Fujifilm, with an ultra-sharp range of FUJINON lenses for excellent image resolution. Fujifilm's colour-reproduction technology, formulated over 80 years, delivers images of unparalleled quality and realism, recording a subject's textures, three-dimensional feel and even the atmosphere surrounding it.  Utilizing the same sensor as the Flagship rangerfinder-style, X-Pro2, the Fujifilm X-T2 incorporates a 24.3Million Pixels X-Trans CMOS III which produces incredible, pin-sharp results.
The X-T2's compact and lightweight camera body is also dust-resistant, water-resistant and capable of operating at temperatures as low as -10°C. Its autofocus and electronic viewfinder performance have both been substantially improved, making it more adaptable than ever before at shooting a moving subject under difficult conditions, such as sports or wildlife photography, which had previously been considered difficult with mirrorless cameras.
For the first time in the X Series, the X-T2 supports 4K video recording. The Film Simulation modes, used for still images, can be applied to video to easily produce premium-quality footage.
The X-T2's design is modelled after the "central viewfinder style" of the FUJIFILM X-T1, which has been popular since its launch in 2014. This proven stable form factor provides a camera that is perfectly sized with ergonomic dials laid out exactly where they are needed for excellent, intuitive operability.
The X-T2 is to become the X Series' flagship model along with FUJIFILM X-Pro2, the world's only rangefinder-style camera with the Hybrid Multi Viewfinder, released in March this year.  The two models deliver unparalleled performance in their distinctive fields, with the X-T2 excelling in portraiture, nature and sports photography, and the X-Pro2 ideal for snapshots and discreet documentary photography.
In short, Fujifilm have listened to every comment made about the X-T1, and even the X-Pro2, and added the results together in this stunning camera that produces amazing results in every shot, but also reacts as fast as you need in any given situation.  Faster, stronger, and ultimately better results make this an ideal choice of camera for those who want the perfect photographic experience.

VPB-XT2: Vertical Power Booster
Not just any accessory, this is THE must have accessory to maximise the X-T2's power and take it to it's fullest potential.
It is dust-resistant, water-resistant and capable of operating at temperatures as low as -10°C. It fits two batteries, bringing the total number of batteries to three, including the one on the camera, to increase the maximum number of frames that can be taken per charge to approx. 1,000 (Normal mode).
In the Boost mode, multiple batteries can operate at the same time to give a boost to camera performance in continuous shooting, shooting interval, shutter release time lag and blackout time, while also extending the duration of 4K video recording to approx. 30 minutes. It is an accessory that can maximize the performance of the X-T2.
The Grip features the shutter release button, focus lever, AE-L button, AF-L button, command dials, Q button and Fn button to provide the same level of excellent operability in vertical shooting as you get in horizontal operation.
The Grip also features a headphone jack to enable audio monitoring during video recording.
The Grip itself has battery-charging functionality. Using the AC adapter supplied (AC-9VS), you can fully charge two batteries at the same time in approx. 2 hours.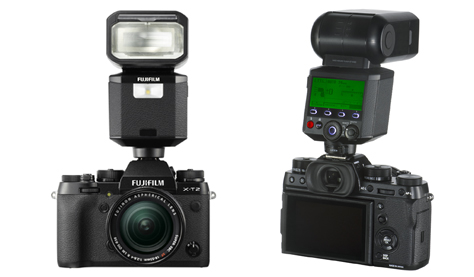 EF-X500 Flash
The EF-X500 is a hot-shoe mount flash with the maximum guide number of approx. 50. Its support for the FP mode (high-speed flash sync) means the flash can be fired at any shutter speed. This means you can concentrate on shooting when a faster shutter speed is required, for example, in order to use a near-maximum aperture to produce beautiful bokeh.
EF-X500 also supports multi-flash lighting. Set up multiple flashes to freely control light on a subject and background for a creative result. TTL lighting control is available with single flash and also in the multi-flash setup, so that you can start shooting without having to make cumbersome adjustments to light output.
via Cameraworld