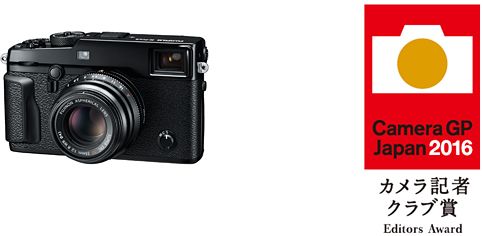 The Fujifilm X-Pro 2 won yet another award today from Camera GP the "Camera Press Club Award."
Translated Press Release:
Fuji Photo Film Co., Ltd. (President: Nakajima Naruhaku) of, flagship model "FUJIFILM X-Pro2" of digital camera to realize the outstanding photo image quality in its own color reproduction technology "X Series" (hereinafter referred to as "X-Pro2" ), it was awarded the "camera press Club Award" in the camera Grand Prix 2016.
Camera Grand Prix is, photo camera and magazines camera Press Club is a collection of mechanisms responsible reporter of (* 1) is organized, "Camera Press Club Award" chose a member of the camera press club, popular appeal, topic sex, is a prize to be awarded for outstanding products in innovation.
[X-Pro2]
"X-Pro2" is, by the new development of the APS-C size "X-Trans ™ CMOSIII" sensor (24.3 million pixels, less low-pass filter), is the "X Series" the best of the mirror-less digital camera that achieves resolution. The processor equipped with the "X-Processor Pro" that boasts four times the processing speed of the current model (* 2), the conventional machine "FUJIFLM X-Pro1" (hereinafter, "X-Pro1") 1.5 times the pixel compared with the despite the number, such as the writing speed and the start-up time, all the response has been improved.
In addition, it equipped with only the world the "Advanced Hybrid Multi Viewfinder". An optical viewfinder (OVF), electronic viewfinder that uses a high-resolution liquid crystal panel of 2.36 million dots (EVF) can be switched freely according to the shooting scene, you can also simultaneously display a small EVF in further OVF . As a universal camera that can respond to all the shooting scene, it has earned a high reputation all over the world since its launch.
[Selection reason]
The one and only "Advanced Hybrid Multi Viewfinder", be fun to re-recognize them by with us new film simulation "ACROS" mode of monochrome photography, the extraordinary commitment development team such as the classical appearance has been condensed, in addition, the evolution of the concept of evaluation of the higher was the conventional machine "X-Pro1", it is evaluated that it is the camera that will meet at a high level also possessiveness, including texture, camera Grand Prix 2016 "camera press Club Award I was elected. "
Fujifilm in the future, working on the development of new products and services that capture the user needs, will continue to contribute to the development of photographic culture.
Vai Fujifilm.jp