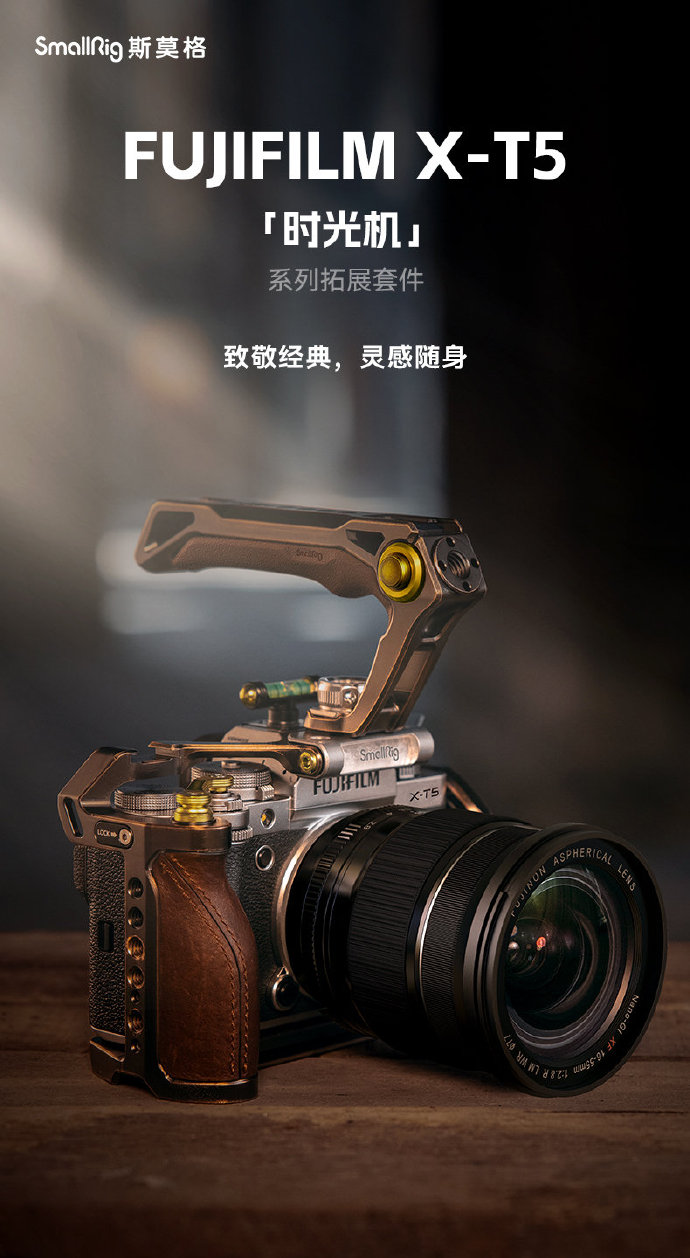 SmallRig Retro-Style Camera Cage Kit for FUJIFILM X-T5:
B&H Photo / Amazon / Adorama
Small Rig announced what they call the time machine kit in Asia, but it is available in the US as the SmallRig Retro Handheld Cage Kit. The details are below:
FUJIFILM X-T5 "time machine" series expansion kit officially released!
"Time Machine" series is our exclusive kit for the new machine X-T5, but also for the Fuji brand original to expand the ecology, both retro aesthetics, antique craft and pragmatism, carefully carved every detail, pay tribute to the classic, inspiration to carry!
✔️ Hand polished, each kit is unique
✔️ Leather sewing, skin-friendly texture within reach
✔Fingertip shutter, shift press, easy to control
✔Press and flip clamp to facilitate plugging and unplugging of data cable
✔Ergonomic portable, comfortable mirror, free to expand
✔️ Steampunk hot boot cover, auxiliary level calibration
Small Rig Retro Handheld:
B&H Photo / Amazon / Adorama
Fujifilm X-T5 Black:
B&H Photo / Amazon / Moment / Adorama
Fujifilm X-T5 Silver:
B&H Photo / Amazon / Moment / Adorama
Please don't forget to follow us on Facebook, Twitter, Instagram, YouTube
Plus our owners' groups
Fujifilm GFX Owners Group
Fujifilm X-H Owners Group
Fujifilm X-T Owners Group
Fujifilm X-S Owners Group
Fujifilm X-Pro Owners Group
Fujifilm X-E Owners Group
Fujifilm X-A Owners Group
Fujifilm X100 Owners Group