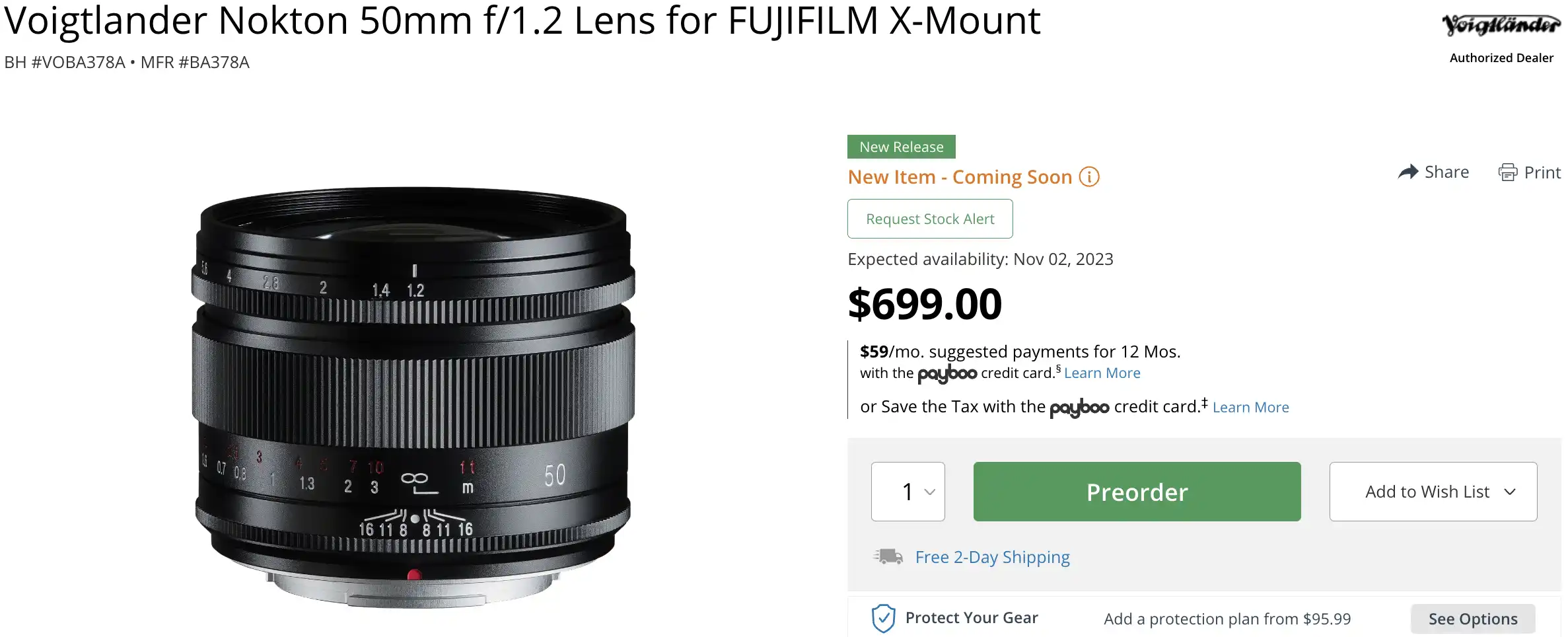 The Voigtlander NOKTON 50mm f/1.2 was announced a while ago, but preorders just started over at B&H Photo.
Features
The NOKTON 50mm F1.2 X Mount is a F1.2 large aperture manual focus medium telephoto lens. It has an angle of view equivalent to 75mm in full-frame format, and has a large aperture of F1.2 based on the Sonnar-type lens configuration, which has an asymmetrical front and back aperture. Despite the adoption of a spherical lens and the extension of all groups, it is compact and easy to handle, with an overall length of 49.0mm and a weight of 290g. This lens produces large bokeh when the aperture is wide open, and by stopping down the aperture several stops, it delivers sharp descriptive power.
Main features
Exclusively designed for Fujifilm X mount
Equipped with an optical system optimized for the image sensor of the Fujifilm X system camera. High resolution is maintained to the image periphery without relying on the camera's optical correction function, and phenomena such as color cast are also suppressed.
Information communication with the body by electronic contact
Equipped with electronic contacts for highly reliable electrical communication between the lens and body. In addition to Exif information, focus check, and shooting distance linked display, certain models also support in-body image stabilization and parallax correction through the combination of a body that supports telecommunications and the latest firmware (*1).
Manual focus for reliable focus operation
The use of an all-metal helicoid unit that has been processed and adjusted with high precision and high-quality grease that produces just the right amount of torque enables focusing with a smooth operating feel. It enables fine focus adjustment.
Beautiful bokeh with 12 aperture blades
A 12-blade diaphragm is used to make the hole formed by the diaphragm blades closer to a circle. Out-of-focus areas are rendered naturally, and point light sources are not polygonal but softly rounded.
Aperture ring for direct mechanical operation
The aperture mechanism uses a mechanism in which the aperture ring is directly connected to the opening and closing of the aperture blades, similar to Voigtlander's VM mount and mirrorless mount lenses. With a 1/3 step click, you can enjoy the feeling of operating the mechanism directly.
Shortest shooting distance 0.39mT
he shortest shooting distance is 0.39m when all lens groups are extended. With the close-up effect, you can get an even greater amount of bokeh than when shooting a distant view, expanding the possibilities of shooting that make the most of the bokeh at maximum aperture.
*1 Precautions regarding electronic communication compatible bodies
This product is equipped with electronic contacts, but there are restrictions on the bodies that can be used for electronic communication. Please check the body list below. (April 2023 survey)
Telecommunications compatible model and firmware *2*3
X-H2s v3.01 and above
X-H2 v1.21 and above
X-Pro3 v1.23 and above
X-T5 v1.03 and above
X-S20 v1.10 and above
X-S10 v2.10 or above
X-H1 v2.13 and above
X-T4 v1.25 and above
X-T3 v4.12 or above
X-T2 *4 v4.40 and above
X-T30 v1.41 and above
X-T30 II v1.00 or above
X-E4 v1.04 and above
Models that do not support telecommunications*5
X-T X-T1 X-T20 X-T10 X-T200 X-T100
X-Pro X-Pro2 X-Pro1
XE extension X-E3 X-E2 X-E1
X-M X-M1
X-A X-A7 X-A5 X-A3 X-A2 X-A1
*2 It is recommended to change the depth of field display to the film standard (the same value as the depth scale engraved on the product) in the body settings.
*3 Please use the latest firmware as there may be cases where the performance cannot be demonstrated or there may be restrictions on some functions if the firmware is less than the listed firmware. Please check the body instruction manual for confirmation of the firmware of the body used and acquisition of the latest firmware.
*4 When using with X-T2, Fno can be displayed by changing the aperture value display setting from TNo to FNo in the body settings.
*5 When using with a model that does not support telecommunications, change the setting of [Release without lens] in the body settings to "Allow".
specification
focal distance 50mm (Full size equivalent: 75mm)
Aperture ratio 1 : 1.2
minimum aperture F16
lens configuration 8 groups of 9 pieces
angle of view 32.5°
Number of aperture blades 12 sheets
Shortest shooting distance 0.39m
Maximum magnification 1: 6.0
Maximum diameter x total length φ63.9×49.0mm
filter size φ58mm
weight 290g
Lens hood Dedicated hood included
Aperture ring Equipped (manual aperture)
Electronic contacts Yes *1
Exif information Supported *1 *2
focus check correspondence
Parallax correction Supported (X-Pro3)
In-body image stabilization Compatible (limited to models that support in-body camera shake)
Shooting distance linked display correspondence
Price/JAN code
Suggested retail price (excluding tax) ¥100,000
JAN code JAN 4530076 234079
release date Scheduled to be released in September 2023