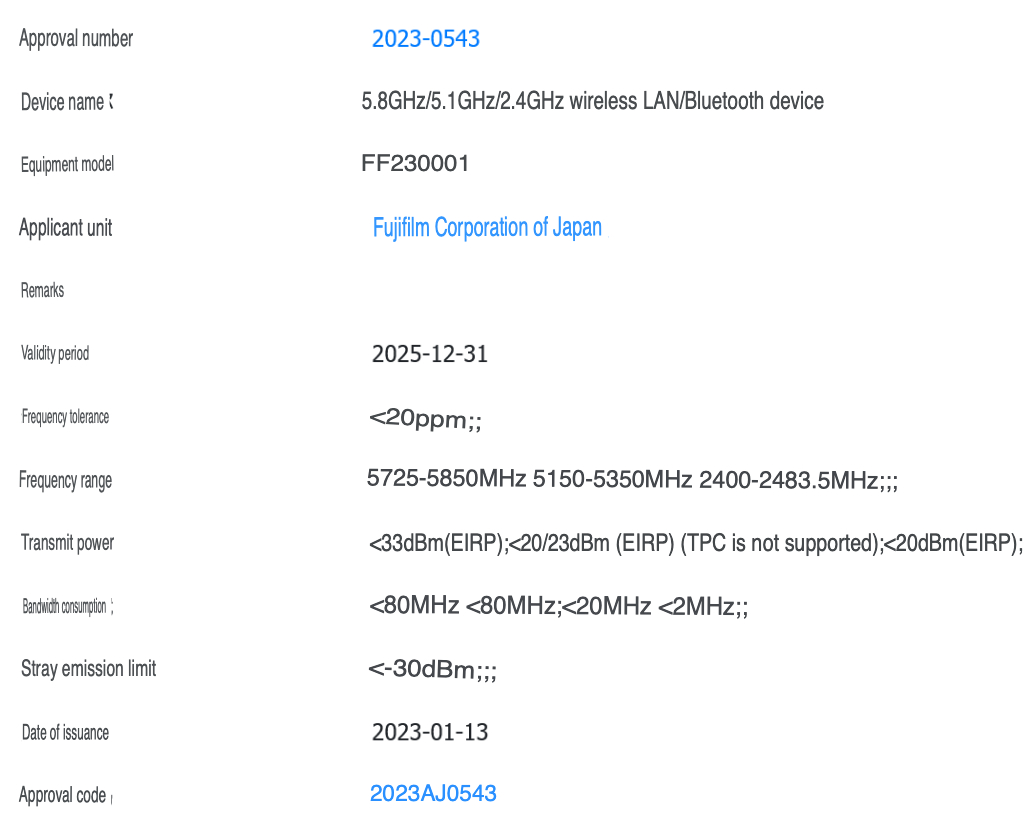 A Fujifilm camera registration of FF23001 has been found in addition to the FF220002 found in February.
Codename: FF230001




Frequency: 5725-5850MHz 5150-5350MHz 2400-2483.5MHz




Validity period: 2025-12-31




Issue date: 2023-01-13
These two cameras probably match the Fujifilm X-S20 and Fujifilm GFX50RII that were first rumored here. There has also been noise about a new GFX100, but if that ends up being the case, I doubt it will have a new sensor, and I am not sure that a faster processor would be of much use beyond adding more video features and quicker tracking. A lot of GFX fans are hoping for a new rangefinder-styled GFX, and I hope Fujifilm gives us one.
We will have answers soon enough since the X Summit is only one month away.
Fujifilm X-H2S:
B&H Photo / Amazon / Moment / Adorama
Fujinon XF18-120mm F4.0 LM PZ WR:
B&H Photo / Amazon / Moment / Adorama
Fujinon XF150-600mmF5.6-8 R WR:
B&H Photo / Amazon / Moment / Adorama
Follow Fujiaddict on Facebook, Twitter, Instagram, and YouTube
Plus, our owners' groups
Fujifilm GFX Owners Group
Fujifilm X-H Owners Group
Fujifilm X-T Owners Group
Fujifilm X-S Owners Group
Fujifilm X-Pro Owners Group
Fujifilm X-E Owners Group
Fujifilm X-A Owners Group
Fujifilm X100 Owners Group