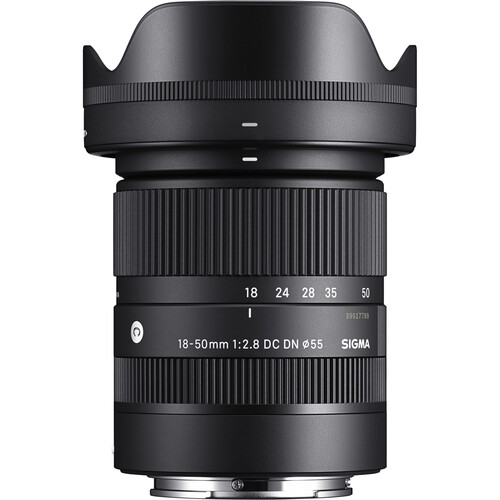 Sigma 18-50mm f/2.8 DC DN:
B&H Photo / Amazon / Adorama
Optical limits published its full review of the Sigma 18-50mm f/2.8 DN DC Contemporary, which you can read in full here or you can check out the excerpt below:
The Sigma 18-50mm f/2.8 DN DC Contemporary is a pretty obvious choice if you want to have a lightweight, fast standard zoom lens without breaking your bank account. On Fujifilm's 26-megapixel APS-C sensor, it is pretty sharp throughout the zoom range. However, it's worth noting that the corner performance at 18mm is visibly worse when using the lens on 40 megapixels – this will apply to most zoom lenses, though. For the secondary image aspects (image distortions, CAs, vignetting), it relies heavily on digital corrections – probably due to the same compact design that makes the lens so appealing. The RAW figures aren't overly impressive in these respects, especially with respect to vignetting. However, even so – from an end-user perspective, this isn't overly relevant. While you may spot the effects of auto-correction when looking closely, the final quality of the image is still very fine. The quality of the bokeh is pretty good for a standard zoom lens, although you shouldn't expect prime lens quality here.

The build quality is perfectly fine. The lens is tightly assembled without showing any wobbling when fully extended. Sigma's TSC material feels nicer than other plastics that we have handled (I'm looking at you, Tamron). The dust- & moisture sealing is a bit on the basic side, but it's better than nothing. As already mentioned before, it's a tiny lens in the grand scheme of things, and we hope to see more Sigma lenses follow this design philosophy – after all, being smaller is a value proposition of APS-C format systems compared to full format. The AF is speedy and noiseless – no complaints here. For image stabilization, it relies on the camera. This is commendable because keeping a consistent lens alignment is difficult enough on standard zoom lenses.

While there are a few caveats, we really liked this small little fellow. It strikes a really nice balance between decent optical quality, solid construction and a very attractive price tag.
Follow Fujiaddict on Facebook, Twitter, Instagram, and YouTube
Plus, our owners' groups
Fujifilm GFX Owners Group
Fujifilm X-H Owners Group
Fujifilm X-T Owners Group
Fujifilm X-S Owners Group
Fujifilm X-Pro Owners Group
Fujifilm X-E Owners Group
Fujifilm X-A Owners Group
Fujifilm X100 Owners Group