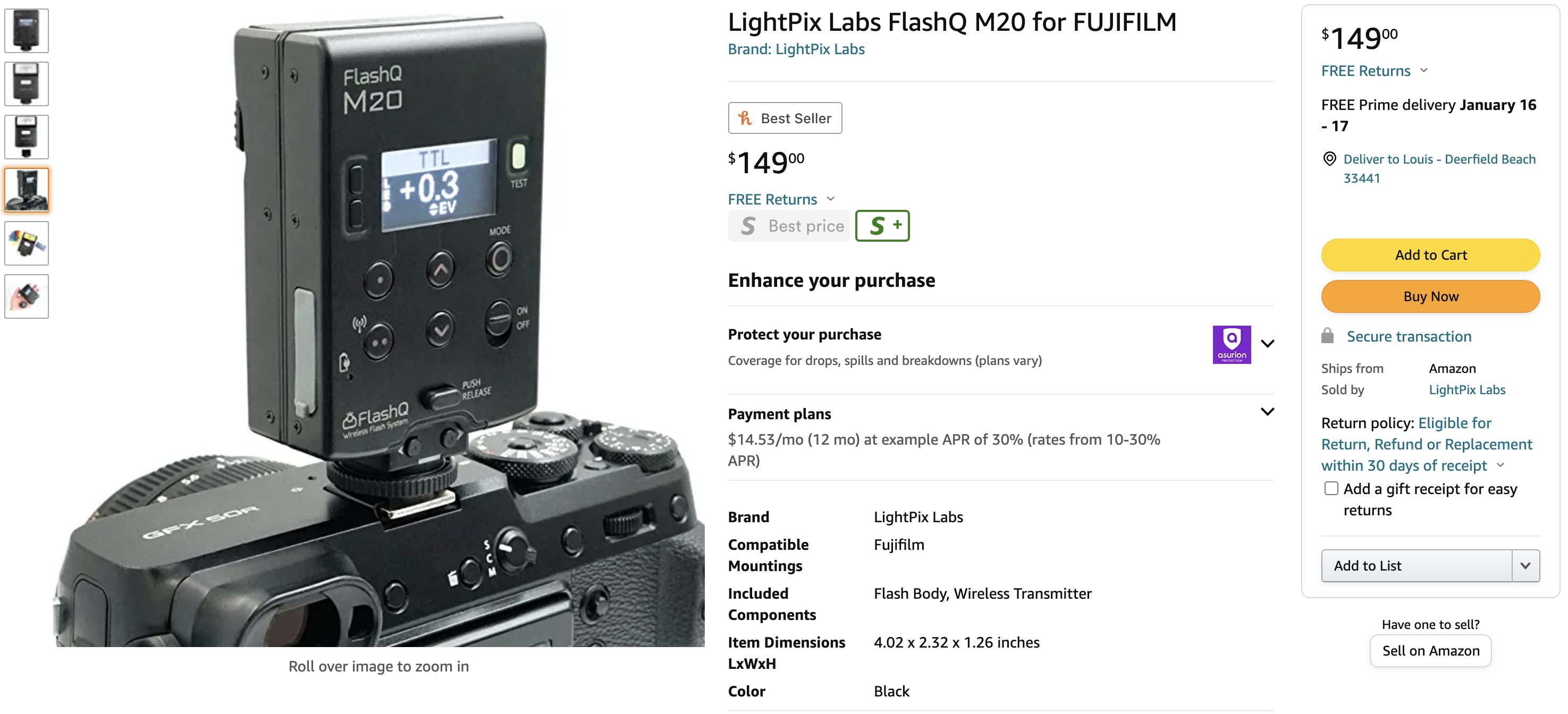 The LightPix Labs FlashQ M20 that was announced the other day can now be purchased for Fujifilm on Amazon.
The TTL-enabled wireless flash for FUJIFILM cameras. With premium metal body design.

With a detachable 2.4GHz radio transmitter for radio wireless control. Designed for off-camera flash photography.

Wireless TTL supports Front & Rear Curtain Sync and Flash Exposure Compensation (FEC).

Bi-color LED light featuring the adjustable 3000 to 5600K color temperature, 20 to 100% dimming, high CRI of 90.

Guide Number 66ft at ISO 100, coverage 32mm (Full-Frame).
M20 TECHNICAL SPECIFICATIONS

Guide Number 20 (at ISO 100)
Focal length coverage: 32mm (on 35mm format)
Manual flash power ratio control from 1/1 to 1/64
(further supports 1/3 EV steps setting from 1/1 to 1/16)
LED video light (both brightness and color temperature adjustable,
Max. 60 lux output at 1 meter)
2.4GHz low-power digital radio, 9 meters wireless operating range
Tilt-capable flash head, up to 90° and with click-stops at 0°, 45°, 60°, 75°, 90°
Other functions: S1 / S2 optical slave, modeling light (LED)
Transmitter (TTL) per charge : 30 hours operation and 120 days standby
Transmitter (Non-TTL) per charge : 80 hours operation and 120 days standby
Transmitter with built-in rechargeable Li-ion battery
Two AA-size alkaline / rechargeable Ni-MH batteries for M20 main body
Recycling time (1/1 full power output) : 5 sec. by Ni-MH batteries /
6 sec. by fresh alkaline batteries
Number of flashes : 100 – 2000 flashes
LED lighting time: approx. 1 hour (at full power LED output and by Ni-MH batteries)
Flash color temperature : 5600K±200K (same as daylight)
LED color temperature : 3000~5500K adjustable, tolerance ±300K, CRI 90
Dedicated socket for FlashQ transmitter attachment
Dimensions : 59(W) x 102(H) x 32(D) mm (with FlashQ transmitter attached)
Weight : 130g (without battery)
Follow Fujiaddict on Facebook, Twitter, Instagram, and YouTube
Plus, our owners' groups
Fujifilm GFX Owners Group
Fujifilm X-H Owners Group
Fujifilm X-T Owners Group
Fujifilm X-S Owners Group
Fujifilm X-Pro Owners Group
Fujifilm X-E Owners Group
Fujifilm X-A Owners Group
Fujifilm X100 Owners Group