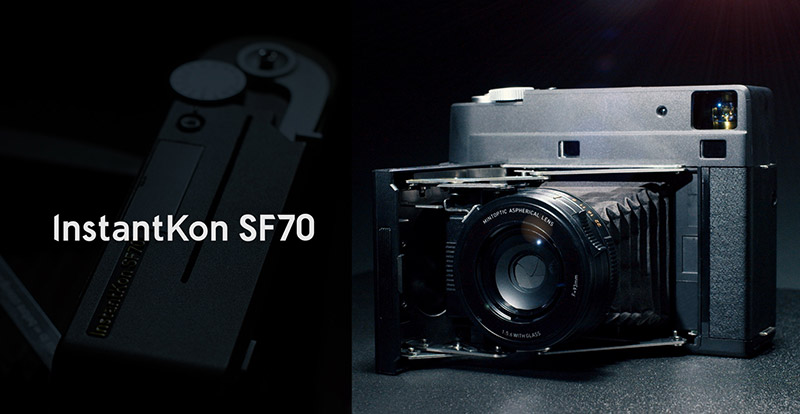 Mint now has an Instax Square camera the InstantKon SF70 but currently, availability is very limited with just 24 units available to order so if you want one do not delay and order one here. I haven't covered Mint in a while, but I was surprised to see they are still offering free unlimited film if you post your shots to IG and tag them etc, but be sure to read the details before ordering to see if you will be able to meet their requirements to qualify.

InstantKon SF70
A Classic Reimagined. Full Manual Control. Truly Analogue.
S quare   F ormat
One camera. Endless options.
InstantKon SF70 is designed to let the photographer take control. With ordinary instant cameras, the camera controls you. With MiNT cameras, you control the camera. SF70 is the only Square format camera that offers full manual control – shutter speed, aperture, and focus.
Enjoy the power of manual control
It's all about what's possible. Be free to create the images you desire. Shutter speeds, aperture selections, focusing controls, built-in flash, and long exposure — SF70 is designed for both the seasoned and amateur shooter. Perfect for street photography, family snapshots, art projects, and daily practice. SF70 gives you the best pictures.
Back to square one
InstantKon SF70 is compatible with Fujifilm instax Square films. Square format has been loved for over a century because of the 1:1 aspect ratio. Framing is so much easier with square. Just look through the viewfinder, use the focusing guide, and preview your image accurately before pressing the shutter. You can even enjoy unlimited free films!
Sensational depth-of-field you can control.
Six apertures for you to choose from. The largest aperture is f/5.6 (35mm equivalent: f/2.4). It will give you incredible bokeh. SF70 offers the shallowest depth-of-field among all instant cameras except special mods.
All you need in an instant camera, carefully packed in one foldable body:
Operates like a classic camera – And it feels like one too.
Customized shutter, aperture, and lens – The designs are optimized for an instant camera to give you the best pictures.
Aperture control – Shoot photos with incredible depth-of-field. Some people call it bokeh. At the closest distance 75cm and f/5.6, SF70 gives you a phenomenal shallow 4.9cm depth-of-field. f/5.6 (35mm equivalent: f/2.4)
Genuine bellows – The authentic bellows are handmade by our artisans. Bellows make the camera foldable, letting the camera become compact. The longer back focus also means a shallower depth-of-field at the same F-no.
Shutter speed control – So that you can control the exact amount of light hitting the film, making pictures the way you want.
Timeless design – This is not just a one-go party camera but your all-time favorite. The long-lasting design also spells planet friendliness.
Real split-image rangefinder – Just like an old Leica or vintage Polaroid camera.
Manual & Auto combined – InstantKon SF70 is designed for both the experienced and amateur shooter. If in doubt, just switch to Auto.
Built-in flash – Having a built-in flash that intelligently adjusts brightness according to the environment dramatically increases the adaptability of the camera. The flash can be switched off.
ND filters – By reducing extra light entering the camera, these ND filters help avoid over-exposing film in bright sunlight.
With 10 years of camera-making experience behind us, SF70 is our latest masterpiece. The classic leather look, elegant bellows design and nostalgic lever makes this more than just a camera: it's a whole new experience just waiting for you. With this camera, you can push the boundaries of instant photography beyond parties, gifts, and souvenirs.
We offer an unprecedented 5-year warranty on this camera. Order today to put your creative vision on display!
Specifications
Apertures – f/5.6, f/6.7, f/8, f/11, f/16, f/22
Lens – 3-element lens with glass, aspherical lenses (35mm equivalent: 40mm), EFL [Effective Focal Length]
Coating – Multi-layer coated
Focusing distance – 0.75m [29.5 inches] – ∞ [manual focus]
Depth-of-field [@ 0.75m and f/5.6] – 4.9cm (35mm equivalent: f/2.4) Shutter speed – 1/500 – 1sec [A mode], B mode – maximum 10mins
Viewfinder – Real image viewfinder, 0.44x
Exposure control – AUTO, A+1, A-1, B, R-flash, 1/500, 1/250, 1/125, 1/60, 1/30, 1/15, 1/8, 1/4, 1/2, 1, OFF
Flash – Built-in electronic flash with auto-brightness balance
Multiple exposures – Yes, unlimited times
Battery – 2 AA Alkaline batteries [included]
Film – Instax Square film W71mm x H86mm [Image: W61mm x H61mm], ISO800 [see sample shots ➞] Adapters – Cable release socket, tripod mount socket, neck strap eyelets and 2.5mm audio jack
Dimensions – 160 x 120 x 64mm [6.2 x 4.7 x 2.51 inches]
Weight – 679 grams [24 ounces] [camera only]