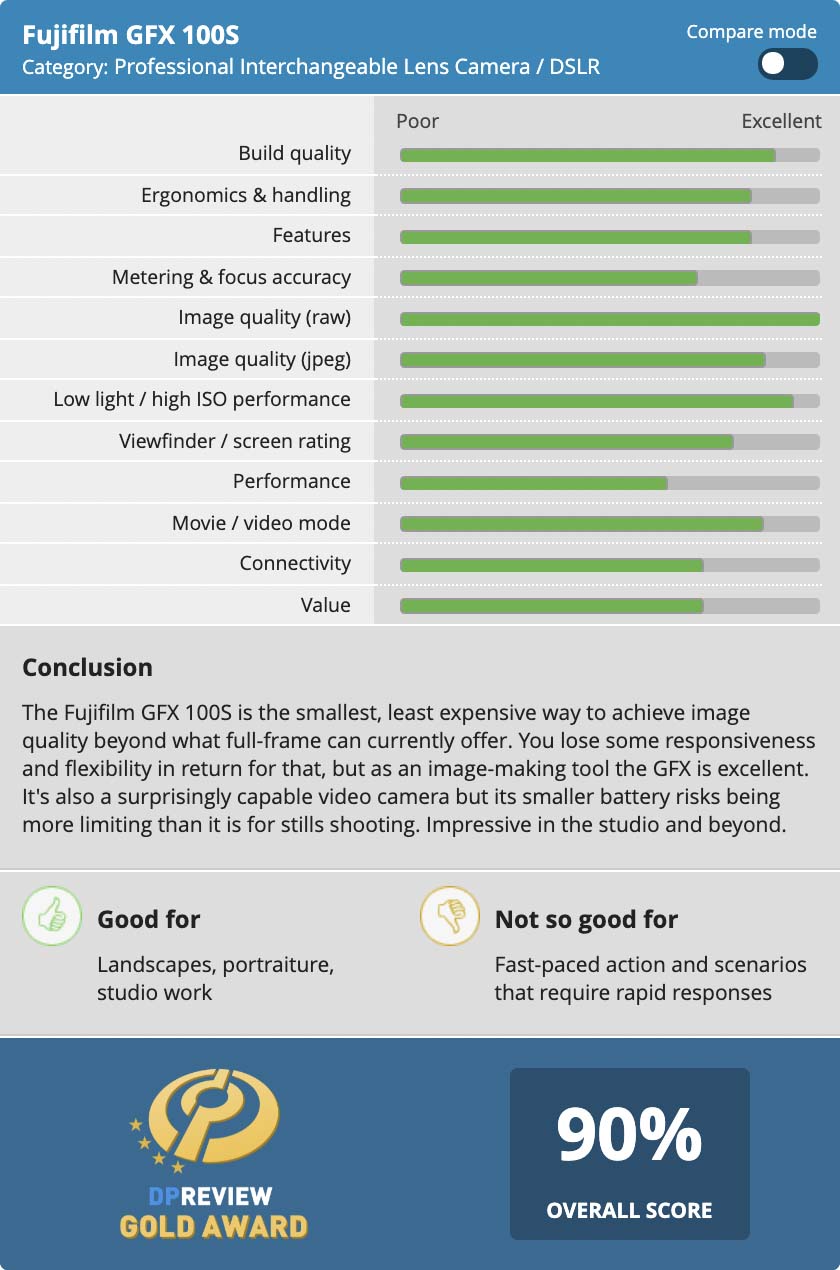 The Fujifilm GFX100S will likely be sold out for some time with how big the preorders were and DPR seems to agree this is the ultimate image quality camera for a fairly reasonable price. The reduced size weight and price have been a big draw, but I am sticking with the full-size camera myself. You can read the full review here or you can read the main points below:
The most succinct assessment of the GFX 100S is that it's capable of producing the best image quality under $10,000, at the time of writing. If gaining the extra image quality it offers over full-frame is valuable to you, we suspect you'll be happy to work around any of the GFX's shortcomings, relative to less expensive cameras, just as you're willing to accept the price difference.

Conversely, if you're wondering about whether the lower-resolution viewfinder or slower AF than the latest full-frame bodies can be justified at this price, then the excellent image quality it offers perhaps isn't quite as central to your personal list of priorities. Having used the camera extensively, I think both perspectives are valid.

While we were working on this review, our test unit occasionally locked up after shooting images. The images were saved but the battery needed to be pulled before the camera would respond.

In addition, there have been reports of shutter mechanisms failing, to which the company has responded:

'At the moment, the failure rate of GFX100S for any type of issues is in line with other GFX/X series cameras. With regard to the reports of mechanical shutter failure, we have heard of such incidents, but in a very limited number. We urge our customers to contact our local repair center if they have questions or concerns.'

The camera was reviewed and scored on the assumption that these issues will be addressed – and after hundreds of exposures we haven't had any shutter problems – but both risks are present at the time of publication.
What we like…

What we don't…

Excellent image quality across the ISO range
Exceptional detail levels
Very good tonal quality maintained into shadow regions
Choice of Raw compression
Image stabilization makes it easy to achieve full resolution
Comfortable ergonomics and decent level of button/dial customization
Relatively compact form factor
Impressive video capabilities
USB charging is convenient

Autofocus performance varies significantly between lenses
Face/Eye AF not as reliable as its FF rivals
AF Tracking not as sticky
No tracking AF in video
Line-skipped video doesn't give full sensor low-light performance
Comparatively low battery life
Viewfinder isn't very high resolution
Fujifilm GFX100S: B&H Photo / Amazon / Moment / Adorama
Fujifilm GFX100: B&H Photo / Amazon / Adorama
Fujifilm GFX50R: B&H Photo / Amazon / Adorama
Fujifilm GFX 50S: B&H Photo / Amazon / Adorama
Follow Fujiaddict on Facebook, Twitter, Instagram, and YouTube
Plus our owners' groups
Fujifilm GFX Owners Group
Fujifilm X-H Owners Group
Fujifilm X-T Owners Group
Fujifilm X-S Owners Group
Fujifilm X-Pro Owners Group
Fujifilm X-E Owners Group
Fujifilm X-A Owners Group
Fujifilm X100 Owners Group