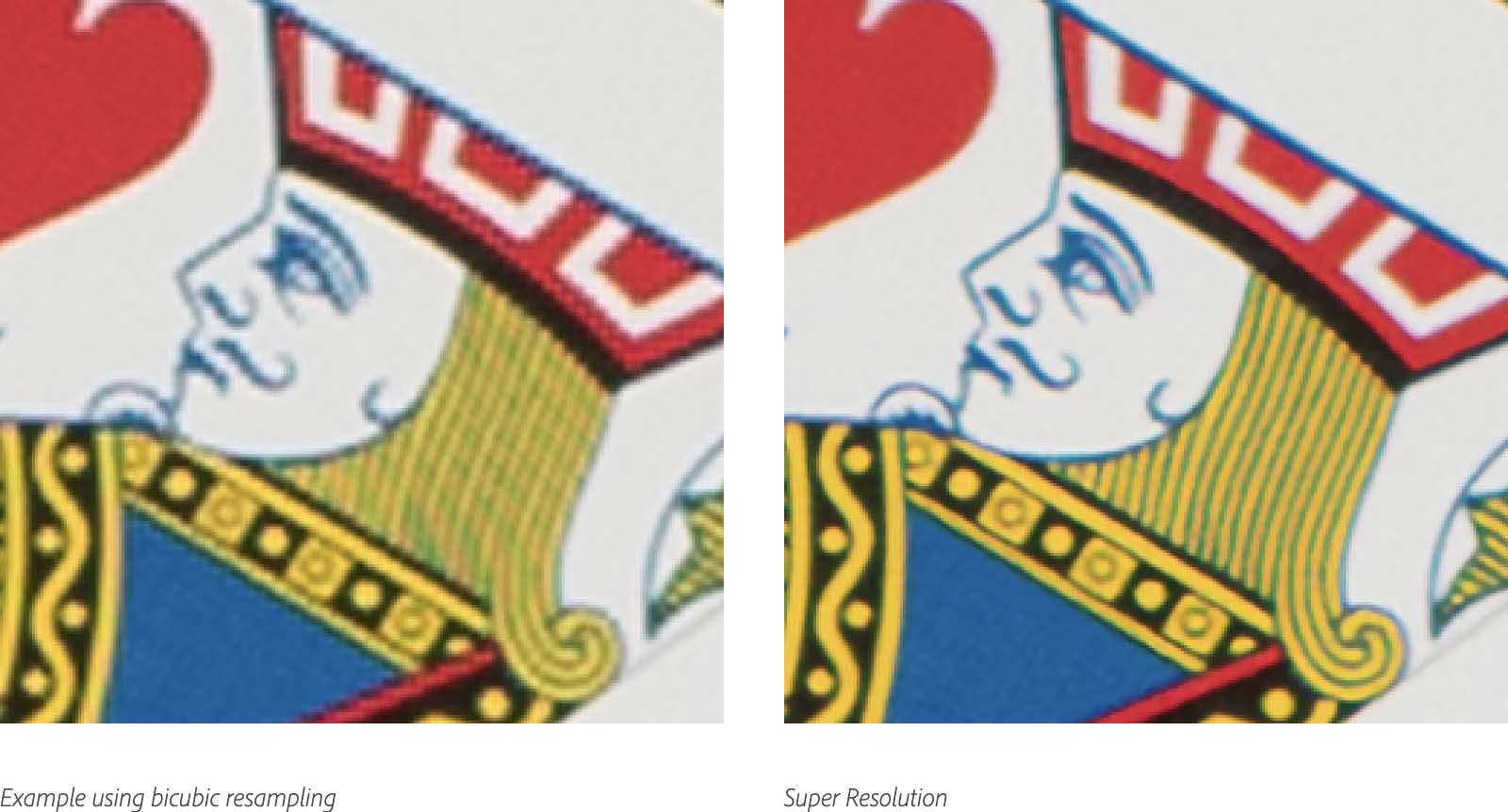 When FujiAddict started most X-Trans cameras were 16MP and 24MP sensors were just coming, which lead me to write 24MP and Beyond: Why Fuji Caught Up Just in Time and Will Have to Embrace the Mega Pixel War. At that time I was happy to see Fujifilm step up to 24MP, but I warned that more resolution would be needed in the future, which some disagreed with. Thankfully Fujifilm released the GFX system which allowed them to grow into 102MP, a great starting point for future-proofing your work, which is a perspective that Fujifilm seems to share in its marketing materials.
Now another element has dropped Super Resolution which is now shipping in Camera Raw 13.2 and will be coming soon to Lightroom and Lightroom Classic. This technology will help close the gap between 24MP cameras and 100MP cameras now that it is available standard in Adobe products. I'm sure others will introduce the technology soon, but 8k is pretty much here and VR/AR is growing rapidly.
Adobe just released an article about the technology, which you can read here. It's interesting that they use X-Trans for many of their examples and talk about it a little more than Bayer in the article since Adobe has only recently started to get X-Trans right with the enhanced detail feature. When Super Resolution comes to Lightroom it will be integrated into enhanced detail and it is my hope that you will be able to apply it to all of your images on import. Storage is quite cheap today and I am personally sitting on about 100TB of local RAID-5 storage now, that I would love to fill with Super Resolution files.
The ability to get 4x the resolution out existing files is exciting and I cant wait to see how well it works with some of my old 16MP and lower images going back to the 1990's. Super-resolution will breathe new life into old files and I think this technology is just the start. Some third parties, like topaz, have some really impressive resizing algorithms based on machine learning, but they are plugins and this will be standard across Adobe's photo software lineup. I'm curious if this technology will come to RAW video in the future too.
This technology will even work with the GFX100 creating 408MP files from 102MP RAW files, but Adobe won't allow above 500MP or 65,000 pixels yet. When Adobe removes this limit, in the future, it will be interesting to create gigapixel files from the GFX100 400MP multishot files. Adobe also claims this technology will work on non-RAW files, but it will be a little while until we can examine the results since the feature is only in Camera RAW at this time.
Of course, all this technology comes at a cost, and files this big can stress modern computers quite a bit. Apple's new M1 chip will be perfect for the task though with its powerful neural engine chips tuned for CoreML performance, but if you aren't ready to go M1 yet then a NVIDIA's RTX GPU will suffice for Windows ML or in an eGPU on mac. A high-speed SSD drive is also recommended for the large file sizes involved.
Fujifilm GFX100: B&H Photo / Amazon / Adorama
Fujifilm GFX100S: B&H Photo / Amazon / Moment / Adorama
Fujifilm GFX50R: B&H Photo / Amazon / Adorama
Fujifilm GFX 50S: B&H Photo / Amazon / Adorama
Follow Fujiaddict on Facebook, Twitter, Instagram, and YouTube
Plus our owners' groups
Fujifilm GFX Owners Group
Fujifilm X-H Owners Group
Fujifilm X-T Owners Group
Fujifilm X-S Owners Group
Fujifilm X-Pro Owners Group
Fujifilm X-E Owners Group
Fujifilm X-A Owners Group
Fujifilm X100 Owners Group