Camera Grand Prix is held by Camera Journal Press Club (CJPC, Japan), a group of representatives from magazines or websites specializing in photos and cameras. CJPC, established in September 1963, has 10 members from the media as of May 2020. The selection committee, organized under CJPC's Camera Grand Prix Executive Committee, deliberates and selects the best products for the four awards among those introduced into the market during the previous fiscal year (i.e. from April 1, 2019 to March 31, 2020 for Camera Grand Prix 2020.)
Camera Grand Prix "Camera of the Year" is granted to a still camera recognized as the best of all released during the period. "Lens of the Year" is awarded to the best lens launched in the Japanese market, while "Readers Award" is determined by general camera users' vote on a dedicated website. (The voting period this time was from March 16 to April 12, 2020.) In addition, CJPC members give "Editors Award" to a camera or another form of photography-related product, excluding the ones awarded "Camera of the Year" and "Lens of the Year", in consideration for the product's popularity, topicality, and innovativeness.
The selection committee is comprised of CJPC members, chief editors (or other representatives) of CJPC member publications, external members entrusted by the Camera Grand Prix Executive Committee, and other special members such as academic experts, technical writers, professional photographers, and representatives from photo-related organizations, in addition to TIPA, the Technical Image Press Association, an association of photo- or image-related magazines, which now has 28 member organizations and photo journalist clubs from 16 countries mainly in Europe. In total, 54 people were involved in the selection process this year.
The reasons for choices stated here were composed by the Camera Grand Prix Executive Committee, based on the selection committee members' opinions.
Camera of The Year
Camera Grand Prix 2020 Camera of the Year is to be awarded to "α7R IV", produced by Sony corporation.
Lens of The Year
Camera Grand Prix 2020 Lens of the Year is to be awarded to "FE 200-600mm F5.6-6.3 G OSS", produced by Sony corporation.
Readers Award
Camera Grand Prix 2020 Readers Award is to be given to "α7R IV", produced by Sony corporation.
Editors Award
Camera Grand Prix 2020 Editors Award is to be given to "EOS-1D X Mark III" produced by Canon Inc., "NIKKOR Z 58mm f/0.95 S Noct" produced by Nikon Corporation and "GFX100" produced by FUJIFILM Corporation.
Camera of The Year
Sony α7R IV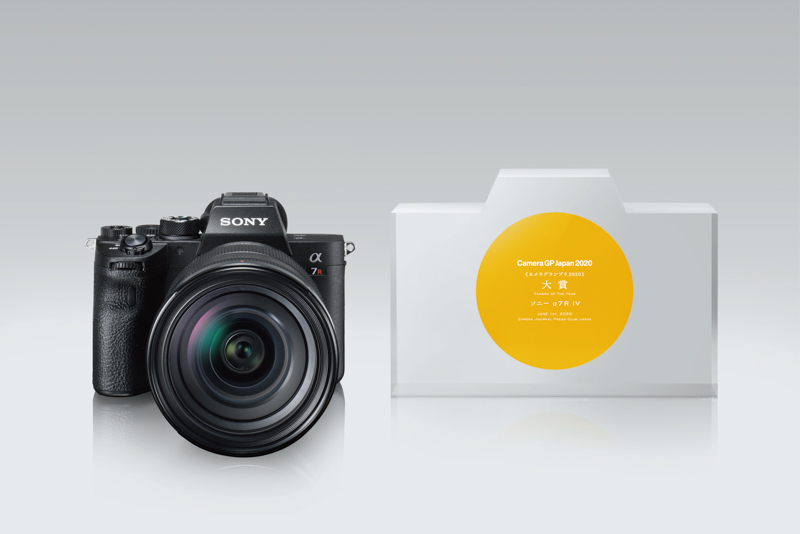 Reasons for choice
Sony's α7R IV is the fourth generation high-resolution R model in the α7 full-frame mirrorless series. It is equipped with image resolution of 61.0 megapixels, a significant increase from the 42.4 megapixels of its predecessor, α7R III. The captured images are precise and can retain high image quality even after cropping. Furthermore, high-speed continuous shooting of approximately 10 frames per second (fps) is possible even when using AF/AE tracking with the mechanical shutter. The image plane phase-detection AF sensor enables high-speed autofocus, while the accuracy of the "eye AF" enables good subject tracking. The model successfully balances high resolution and moving-subject- tracking performance at a high level. In addition, improvements have been made to enhance handling and operability, such the enlargement of the grip, the addition of the ability to alter button functions, the addition of a lock button to the exposure compensation dial and an increase in battery size. Many selection members lauded the camera as being "a culmination of the full-frame α series technology," "the highest performer among current mirrorless cameras," and "a camera befitting the description 'all-powerful'." The α7R II in the same series received the Camera Grand Prix Camera of the Year in 2016.
Lens of The Year
Sony FE 200-600mm F5.6-6.3 G OSS

Reasons for choice
A super telephoto zoom lens with a focal length of 200-600mm, the "FE 200-600mm F5.6-6.3 G OSS" can achieve rapid, quiet, and responsive AF when used with Sony cameras. Even when using the inner zoom, the overall length remains consistent and there is no change to the weight balance – a factor which contributes to its operability as a compact lens for mirrorless cameras. It provides good handling, such as via the zoom ring that can be operated with a small rotation angle, and even with a maximum aperture of F5.6-6.3, there are no problems posed to the electronic viewfinder or Sony's AF system. Equipped with optical image stabilization, it is a compact and lightweight lens that is easy to handle. In addition to ease of use, it is equipped with high optical balance and its pricing is inexpensive, when considering the lens' performance and specs. It also supports a teleconverter, which can be used as a lens up to 1200mm. As of now, it is the definitive super-telephoto zoom lens for mirrorless cameras, extremely useful for shooting not only motor sports, but also airplanes and wild birds. It will no doubt achieve "Olympic lens" status at the Tokyo Olympic and Paralympic Games.
Readers Award
Sony α7R IV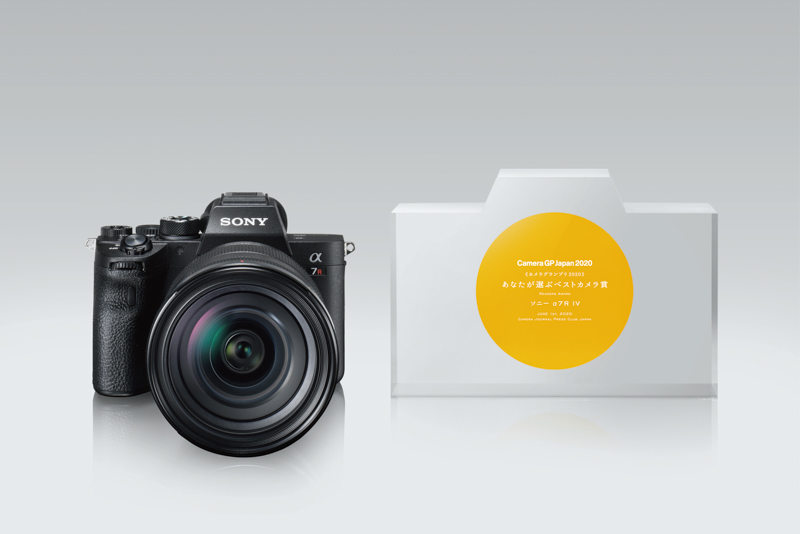 Reasons for choice
The α7R IV was popular among readers as, despite being a high-resolution model, it is also a well-balanced camera with a strong AF performance. Readers also rated it as having top-class performance among mirrorless cameras, and for being a model which has changed the perception and positioning of the full-frame mirrorless camera.
The following are some of the voters' comments (Excerpted and edited).
"A high-resolution mirrorless – high dimension in all aspects."
"Well balanced, despite being a high-resolution camera."
"An all-powerful machine with an evolutionary AF that allows continuous shooting, even in the dark."
"All aspects are high level, including image quality, pixels, AF performance and video functions."
"Versatile and easy to use, despite being an ultra high-resolution model."
"All aspects, from performance, pixels and handling are top class."
"Achieves a perfect balance between high resolution, high sensitivity resistance and AF performance."
"Sensor quality and comprehensive strength."
"All aspects are extremely high dimension."
"Compact but with overwhelmingly high resolution."
"With enhanced operability, the camera is unrivalled by others."
"Lightweight with good handling and good image capturing, this camera makes taking photos fun."
"Makes one look forward to further evolution of the α7R series."
"Retains more than 20 million pixels even after APS-C cropping."
"Hats off to the overwhelming high specs, which can help stretch one's imagination."
"After upgrading to the α7R IV from the α7 III, I believe there is no other camera that can beat this!"
"The camera is pioneer in the field of full-frame mirrorless technology, and its compactness and photo quality are unrivalled by others."
"A truly revolutionary camera."
"Overwhelming resolution and 'eye AF' performance."
"Animal eye AF."
"The 'eye AF' performance when shooting videos is wonderful."
"Accurately reflects users' suggestions."
"The camera has made improvements which accurately reflect users' suggestions regarding concerns with the third-generation model."
"Improvements to the grip have made it easier to hold, so much to the point where you don't feel the weight."
"Marked improvements in handling."
"The shape and orange trim."
"The camera exudes stylishness."
"The camera further cements the position of the mirrorless interchangeable-lens camera (MILC) genre."
"A machine that has achieved of one of the goals for full-frame mirrorless technology."
"Allows one to experience high resolution, without being a professional photographer."
"All flattery aside, I was honestly amazed at the resolution."
"An epoch-making model which has paved the way for the shift to high pixels."
"The pixel shift multi shooting allows shooting of photos with 240.8 million pixels."
"One generation ahead of other makers' models."
"I wish I had started to use Sony sooner."
"It allowed me take beautiful shots, even though I am an amateur!"
"It made me feel that I no longer need SLR."
"I had wanted this camera."
"It has a large selection of light-weight lenses."
"An ideal machine in a compact body."
"A symbol of the modern camera."
"Able to produce wonderful images in line with the high performance technology."
"A few steps ahead of others."
"I am a fan of α7."
Editors Award
Canon EOS-1D X Mark III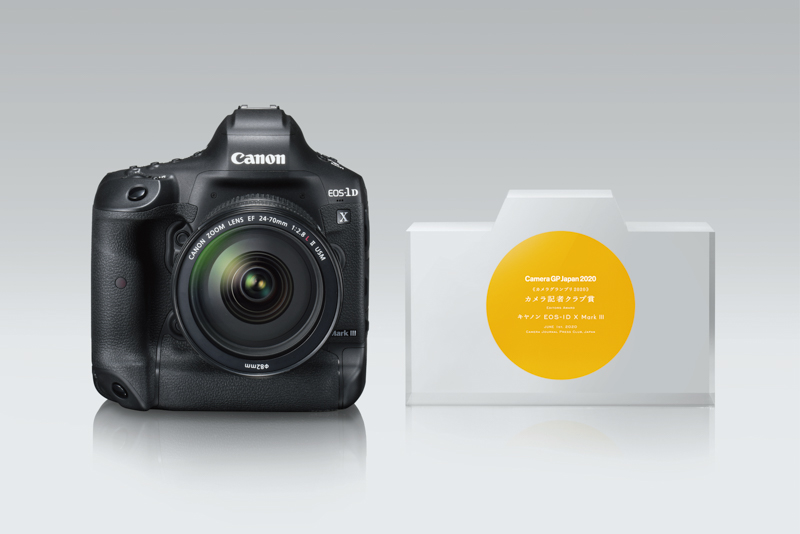 Reasons for choice
Highly evolved, the "EOS-1D X Mark III" is the ultimate flagship SLR camera. The machine reflects the natural evolution of the advantages of conventional SLR technology. Not only has it achieved high-speed continuous shooting of approximately 16 fps due to AE sensor subject recognition and interlocking AF/AE, it also achieves approximately 20 fps with an AF that can quickly and reliably track subjects, even during live-view shooting with the dual pixel CMOS AF. Even as mirrorless cameras become increasingly mainstream, the EOS-1D X Mark III strongly emphasizes the benefits and worthiness of SLR cameras. The device is equipped with a newly developed Gaussian Distribution low-pass filter capable of 16 point-separation, and is designed so that the resolution of the lens can be maximized even while suppressing the moiré effect. Furthermore, the newly developed image-processing engine, DIGIC X, contributes to the continuous- and video- shooting performance. The camera is a top-of-the-line digital SLR machine that allows the user to experience high SLR performance, together with live-view performance similar to that of a mirrorless camera.
Editors Award
Nikon NIKKOR Z 58mm f/0.95 S Noct

Reasons for choice
The "NIKKOR Z 58mm f/0.95 S Noct" large aperture standard lens was released in 2018, together with Nikon's new mirrorless Z series using the Z mount, which the company revealed was designed with specifications capable of creating this particular lens. As such, it is a lens that symbolizes the Nikon Z mount system. Free from the limitations of the F mount for SLR cameras, the lens makes full use of the increased flexibility of design. Even while being a standard lens, its wide aperture of F0.95 allows it to achieve large "bokeh" effects, similar to that of a telephoto lens. The shallow depth of field allows for the creation of expressions not yet seen before. It also achieves excellent image quality for a wide aperture lens, quality which is preserved in the peripheries. Even though the lens is an MF lens, and an expensive one at that, its qualities make it worthy of admiration. As of May 18, 2020, the company has regrettably stopped taking orders for the lens, but the surge in demand which triggered the move likely reflects the high expectations for not only this lens, but also the new mount system.
Editors Award
FUJIFILM GFX100

Reasons for choice
Even among the GFX series, equipped with large 43.8 x 32.9mm sensors, the "GFX100" is an ambitious model that combines ultra-high 102-megapixel performance with flexible shooting capabilities. Not only does it achieve high pixels, but it is also equipped with a rapid AF system capable of face and eye recognition and a 5-axis, 5-stop in-body image stabilization mechanism. Even with all this, its operability and size is the same as a 35mm professional machine, faand its 102-megapixel performance can be fully utilized during hand-held shooting. With its large sensor size and image-processing technology, it achieves a wide dynamic range of 14 stops and its dust-proof, rainproof and low-temperature performance makes it suitable for not only in-studio shooting but also outdoor shooting. The camera succeeds in making 102-megapixel technology accessible.