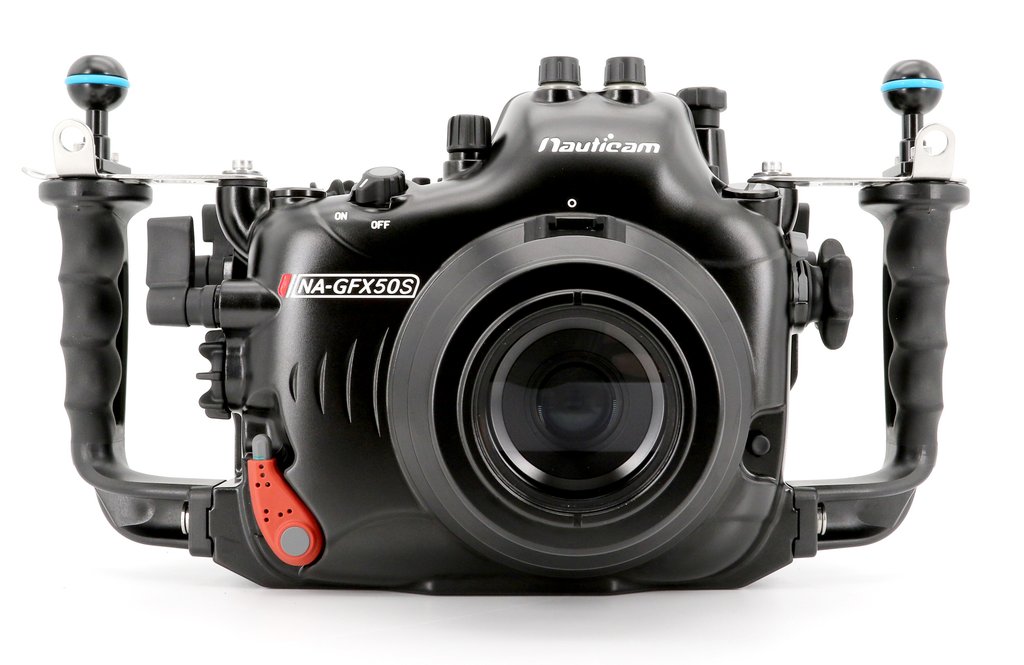 NA-GFX50S UNDERWATER HOUSING
Nauticam has produced housings for a variety of both medium format and mirrorless housings. The NA-GFX50S takes all that experience and produces the first housing for a mirrorless digital medium format camera. Nauticam has continued to offer unencumbered access to the essential controls that underwater photographers need.
The GFX50S has 10 customizable buttons. The camera's "Q" menu can also be customized to accommodate most-used menu items. The "Q" menu is easily accessed by the double thumb-lever on the right hand side which also accesses the assignable "Fn 4" button. The left hand double thumb lever accesses the "PLAY" and "DELETE" functions.
The FOCUS piano key on the right hand side engages the joystick to change the focus point. The GFX50S has a total of 117 contrast focus points that can be further subdivided to 425 individually selectable points. The neighboring Piano Key activates the "Fn 5" button of the camera.FA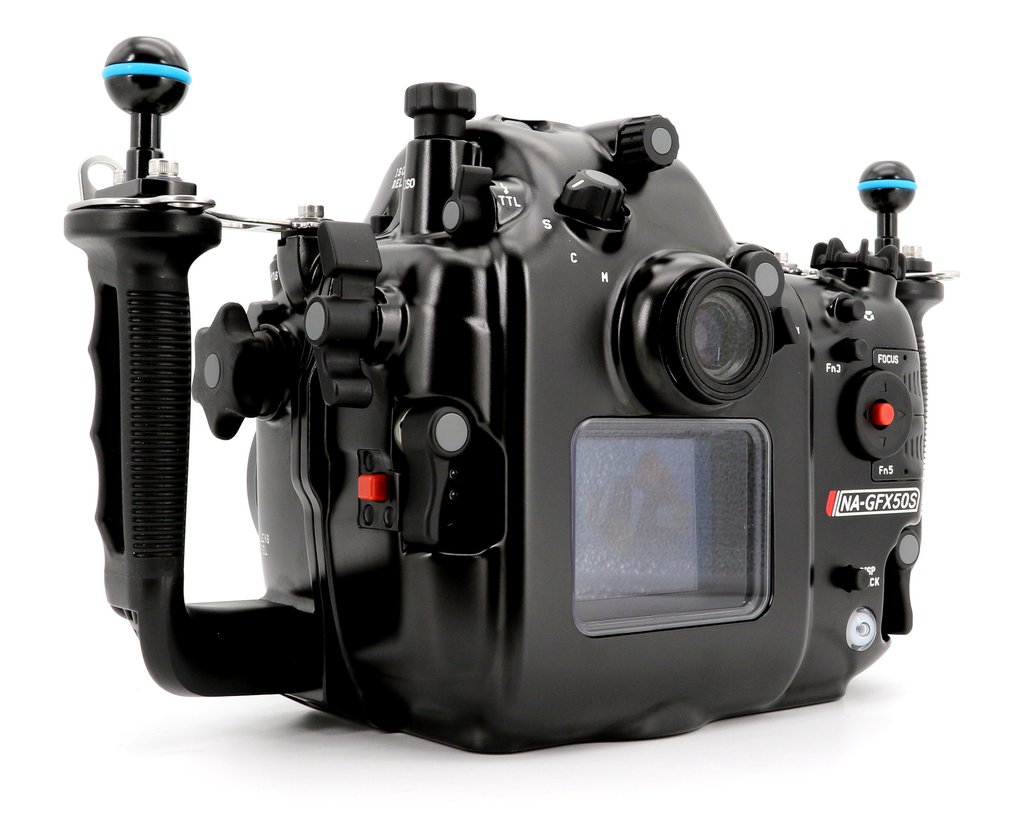 FLASH TRIGGERING
Flash triggering is performed via built-in fiber optic bulkheads using the Fujifilm EF-X20 TTL flash which fits into the housing when mounted on the hot-shoe. Flash EV can be controlled via a dial atop the housing and status can be seen through dedicated viewports. The flash can be turned on and off via a lever on the left side of the housing.
PREMIUM PROFESSIONAL OPTICS
The GFX 50S uses a new lineup of dedicated lenses with the moniker GF. The Nauticam N120 Port Systems supports many of those currently available including ultra-wide primes, zooms, and macro lenses.
VIEWFINDERS
The standard optical glass viewfinder is very good and travel friendly, but many photographers prefer the ease of a magnified viewfinder with adjustable diopter. Nauticam produces a "straight" 180º enlarging viewfinder and a 45º angled enlarging viewfinder to enhance the ease of close quarters work often associated with macro shooting. Both viewfinders have high quality optics, and allow bright viewing of the entire image. A patented external dioptric adjustment allows personal adjustment to a sharp-as-a-tack standard underwater and viewfinder changes can be executed in less than 30 seconds without using tools. Exceptional composition and focus accuracy have never been more accessible.
INTEGRATED VACUUM CHECK AND LEAK DETECTION SYSTEM
The Nauticam vacuum check and leak detection system is shipped with NA-GFX50S as standard equipment. Combined with an accessory vacuum valve this monitoring system provides constant updates on the water tight and safe-to-dive status of the housing. A simple color coded LED lighting system lets the user know that the vacuum is solid, or that the housing is losing vacuum. Leak detection is built into the same circuit, so if there is water intrusion, an audible and visual indication will occur.
The Nauticam system is temperature compensated, eliminating false alarms caused by a change in outside temperature, or from a camera heating up on an action packed dive.