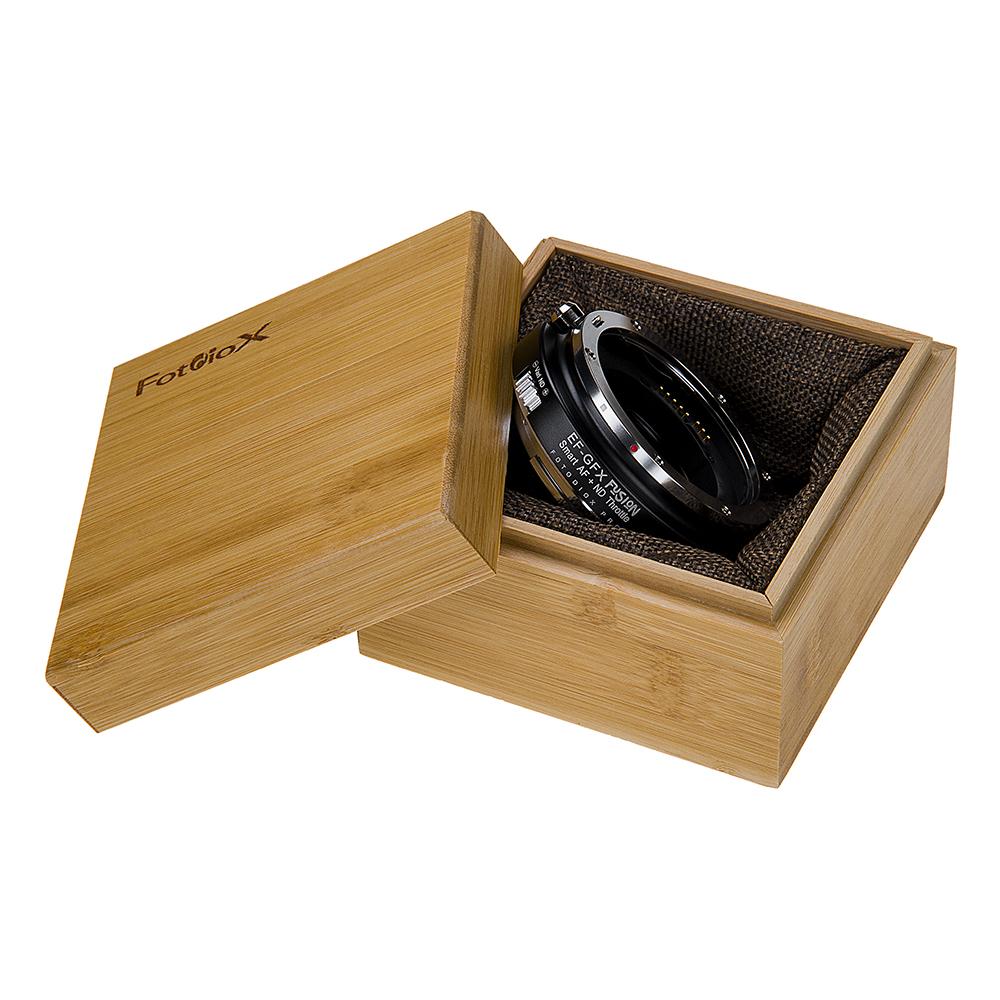 Vizelex Cine ND Throttle Fusion Smart AF Lens Adapter – Compatible with Canon EOS (EF) D/SLR Lenses to Fujifilm Fuji G-Mount GFX Mirrorless Cameras with Full Automated Functions and Built-In Variable ND Filter (1 to 8 Stops)
B&H Photo / Amazon / Adorama
Product Highlights:
• Mounts Canon EOS (EF) D/SLR Lenses to Fujifilm G-Mount GFX Mirrorless Digital Cameras; infinity focus or beyond guaranteed
• Built-in FUSION technology restores automated functions on most lenses such as auto-focus, aperture control, image stabilization and more with compatible lenses
• Built-in Variable Neutral Density Filter ND2-256 (1-8 stops) for easy and convenient image control over any lens that you attach
• Enhanced craftsmanship and high-tolerance construction for demanding professionals; infinity focus or beyond guaranteed; Precise fit, no play, gap or wiggling
• Limited 2-Year Manufacturer Warranty
Mount Vintage Lenses to Digital Cameras
Whether you're shooting digitally or on film, Fotodiox offers the world's largest selection of lens adapters. Mix camera/lens platforms or reinvigorate vintage glass; Fotodiox has hundreds of ways to mount lenses onto your DSLR or SLR camera. Our adapters deliver infinity focus, manual aperture control, and a sturdy build for lasting quality.
FUSION Technology Restores Automated Functions
Sometimes you need more than a simple adapter to mount a lens onto a camera – you need real power. Seize control over the electronic features of your lenses with a FUSION lens adapter. The FUSION technology built into the adapter enables electronic communication between mixed lens and camera platforms. FUSION adapters enable auto focus, aperture control, image stabilization, and more. This adapter enables EXIF and aperture data to be transmitted to and controlled by the camera. Different lenses may exhibit different operating characteristics depending on lens age and manufacturer. We recommend testing individual lenses in your setup before critical shoots.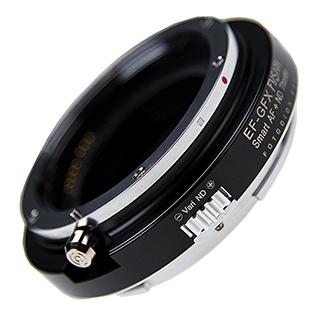 Although the adapter will allow you to mount any Canon EF lens, you may experience vignetting on some lenses as the image circle may not fully cover the larger sensor of the GFX system. Not to worry, the GFX-EF Fusion Smart AF adapter includes a built-in switch to change between Medium Format mode (full sensor) to 35mm mode (cropped sensor) to take full advantage of all lenses available. We've also included a switch on the adapter to allow you quickly and smoothly switch from Aperture Priority mode to Program Mode without needing to navigate in-camera menus.
Fusion Smart AF Lens Adapters also include a micro USB port to allow for firmware updates providing a nearly future proof solution for GFX users. For firmware updates and directions, please see the firmware update article for this adapter in the Fotodiox technical support knowledge base.
Built-in Variable Neutral Density 1-8 stops
The Vizelex ND Throttle is well known for having a built-in variable neutral density filter that offers 1 to 8 stops of light reduction. This concept in adapters has been praised by film makers and now Fotodiox has optimized the adapter for that same crowd. The new Vizelex Cine ND Throttle now feature a geared rotating ring for more precise ND selections and can be used with follow focus accessories. This small change makes the Vizelex Cine ND Throttle a versatile tool for any video shooter.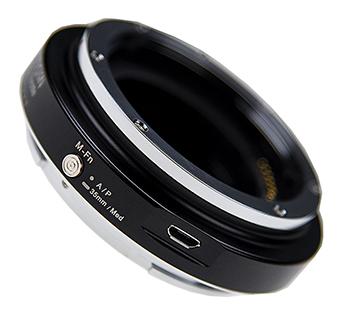 The Vizelex Cine ND Throttle reduces light transmission by one stop when at its 'Min' position. The adapter helps maintain shallow depth of field in bright conditions while eliminating the tedious process of changing filters every time the exposure changes. With the filter positioned in the rear, image quality is better than if the same filter were mounted on the front of a lens. The variable ND filter is made from optical polycarbonate (CR39) for clarity and durability.
All-Metal Construction; Secure & Solid Fit
Fotodiox employs Professional Photographers in every aspect of development and design to create products that are built to last. The Pro line of adapters is crafted to withstand the rigors and demands of the professional photographer. Our adapters are manufactured with precise tolerances, providing a solid, gap free, no wiggle connection for stress free use. No adjustments needed! Fotodiox adapters are meant to be taken off and put back on your camera as much as needed while remaining as precise as the day you bought them.
Fotodiox Pro adapters feature all-metal, no plastic construction to create a secure connection between your glass and camera that will not degrade over time, keeping the lens-camera connection secure with every use. We use chrome plated brass mounts for enhanced durability and reliability. All Fotodiox products are backed by our 24-month Fotodiox Manufacturer Warranty.