Fujifilm is now offering a 4-year warranty for Swiss Fujifilm camera owners via their Fujifilm Connect website for CHF 179.00 per year if you have more than CHF 750.00 in equipment. It will be interesting to see if these kinds of services get extended to other countries. Fujifilm seems to be transitioning to a longer ownership support model, which should be appreciated along with their dedication to doing in house repairs.
The services of the "Fujifilm Swiss Premium Service" are:
Minimum cycle time + spare. Fujifilm offers the PLC members a priority service and strives to make repairs within the minimum cycle time (ten business days for products of the GFX series and twelve working days for products X Series instead of three to four weeks). Is required during repair or replacement, a rental unit, provides Fujifilm, if available, such on request free of charge.

Check + Clean. Check and clean the Fujifilm X devices by specialized Fujifilm technician. PLC members are entitled to submit a maximum of two times per year of membership up to four products to Fujifilm for a free inspection.

Discount on repairs out of warranty. On repairs that are carried out by Fujifilm out of warranty or guarantee, PLC members a discount of 20% for X-cameras and XF / XC lenses, and offers a 30% discount for GFX cameras and GF lenses.

Hotline and express support via e-mail. All PLC members is a free hotline available during the service times. Inquiries by e-mail PLC members from Monday to Friday will be answered within 24 hours or by e-mail.

Replacement abroad. In the event of a device defect of a PLC Mitlgliedes during the stay abroad, Fujifilm Delivers a replacement device abroad and takes over 50% of shipping.

Further information and details
• All information about the "Fujifilm Swiss Premium Service" can be found on this website and in the Terms and Conditions .
• Read background Informations of the PLC service in a brief interview at the end of this article

Fujifilm Switzerland now has 4 years warranty
Fujifilm Switzerland leads now the four-year "Fujifilm Swiss guarantee" for X and GFX cameras and lenses in order to Fujifilm users in Switzerland on the one hand to provide added value, on the other hand also to emphasize the quality of their equipment.

Fujifilm (Switzerland) AG offers this exclusive "Fujifilm Swiss guarantee" the only country to all Fujifilm cameras and lenses of which were imported by Fujifilm (Switzerland) AG after January 1 of 2019.

What distinguishes the "Fujifilm Swiss guarantee" from the Gartantieleistungen other countries? The standard warranty period for Fujifilm Europe is 12 months from date of purchase. The Fujifilm (Switzerland) AG granted on products which were imported by the Swiss economy as from 1 January 2019 new a 4-year "Fujifilm Swiss guarantee" (48 months from date of purchase).

How to get the "Fujifilm Swiss guarantee"? Products which were acquired at the end of November 2019, held on the original packaging a label with the "Fujifilm Swiss guarantee" number. To enable these products can directly Fujifilm Connect are registered. For all between January 1, 2019 November 2019 acquired the equipment "Fujifilm Swiss guarantee" can here until April 30, 2020 be applied retroactively.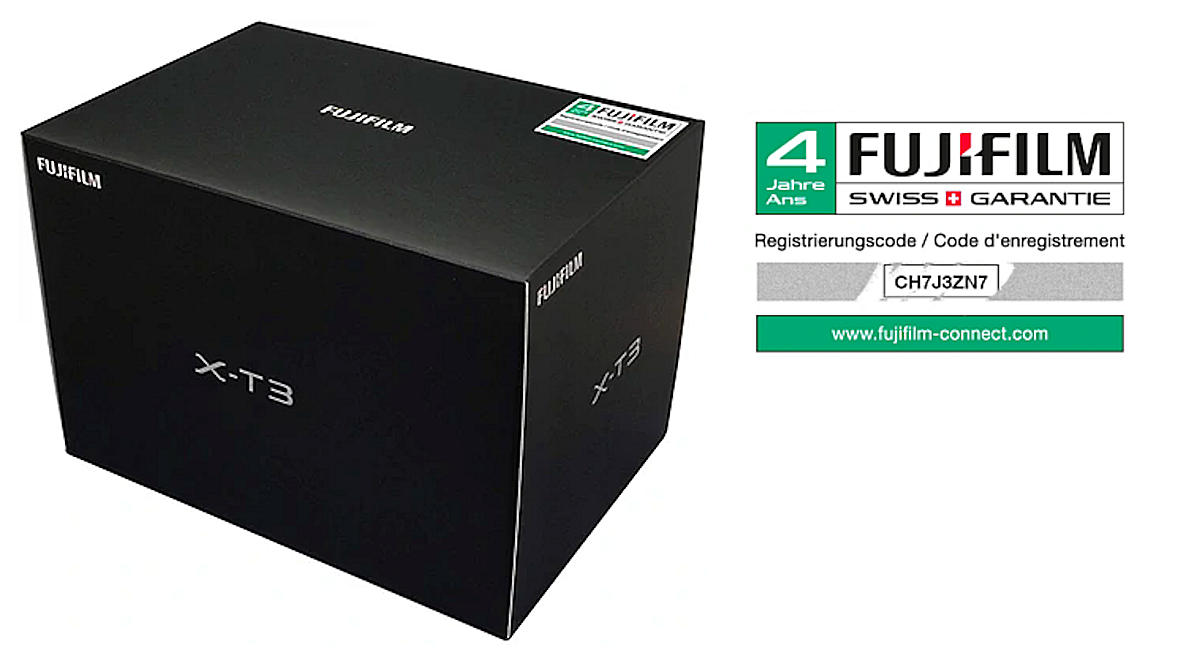 via fotointern