Fujifilm and Hasselblad have had mainstream 44 x 33mm medium format photograph to themselves for around 2 years now and while Hasselblad has been off to a rocky start with the original X1D, Fujifilm has been quite strong. I haven't really kept up with the X1D because the system was light years behind the GFX in performance, but now with the Hasselblad X1D II 50C coming, I think it is worth taking a second look.
I tried to compare how they stack up size wise via camerasize, but they only have a limited amount of lenses at this time. Hasselblad currently has 9 lenses out for the X1D while Fujifilm has 8 lenses and 3 mainstream third party lenses. Hasselblad has focused on wider/faster glass while Fujifilm has spread its glass releases out a little more.
It's interesting that even with a leaf shutter inside most XCD lenses are more compact than equivalent GFX lenses, but the price of XCD glass is significantly higher than GFX glass. Fujifilm enjoys a pretty significant price advantage over Hasselblad when it comes to glass and even the camera body, but the GFX can't match the size of the XCD at this time.
It will be interesting to see what kind of X1D discounts come in the future since Fujifilm has pretty much regularly discounted their glass across the board $500 for GFX. Not to mention the discounts on the GFX50R/GFX50S that have seen savings as high as $1,000. If Hasselblad is serious about taking on Fujifilm they are going to have to bring their prices down some for the time being. I very much doubt they can take a bite out of Fujifilm with their announcement today considering that their glass is almost universally 1.5x+ more expensive than Fujifilm without any discounts.
Fujifilm GFX News, Rumors, and Collaboration
Fujifilm GFX Owners Group
Fujifilm GFX Page
Follow Fujiaddict on Facebook, Twitter, Instagram, and YouTube
Fujifilm GFX100 (Preoders):
B&H Photo / Amazon / Adorama
Fujifilm GFX50R: B&H Photo / Amazon / Adorama
Fujifilm GFX 50S: B&H Photo / Amazon / Adorama
Hasselblad X1D II 50C: B&H Photo / Amazon / Adorama
Hasselblad XCD 35-75mm F3.5-4.5: B&H Photo / Amazon / Adorama
Hasselblad vs Fujifilm Lens Lineup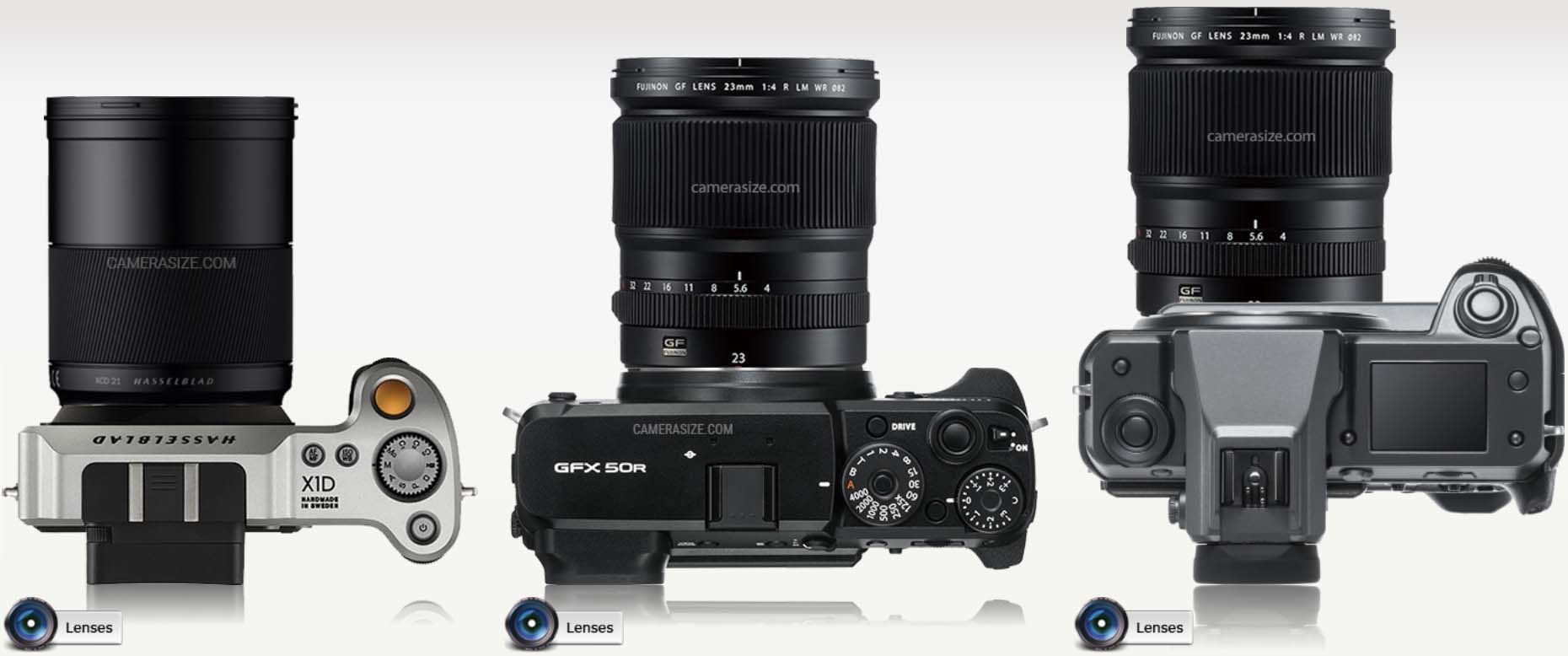 Hasselblad XCD 21mm f/4 $3,750.00
FUJIFILM GF 23mm f/4 R LM WR $2,599.00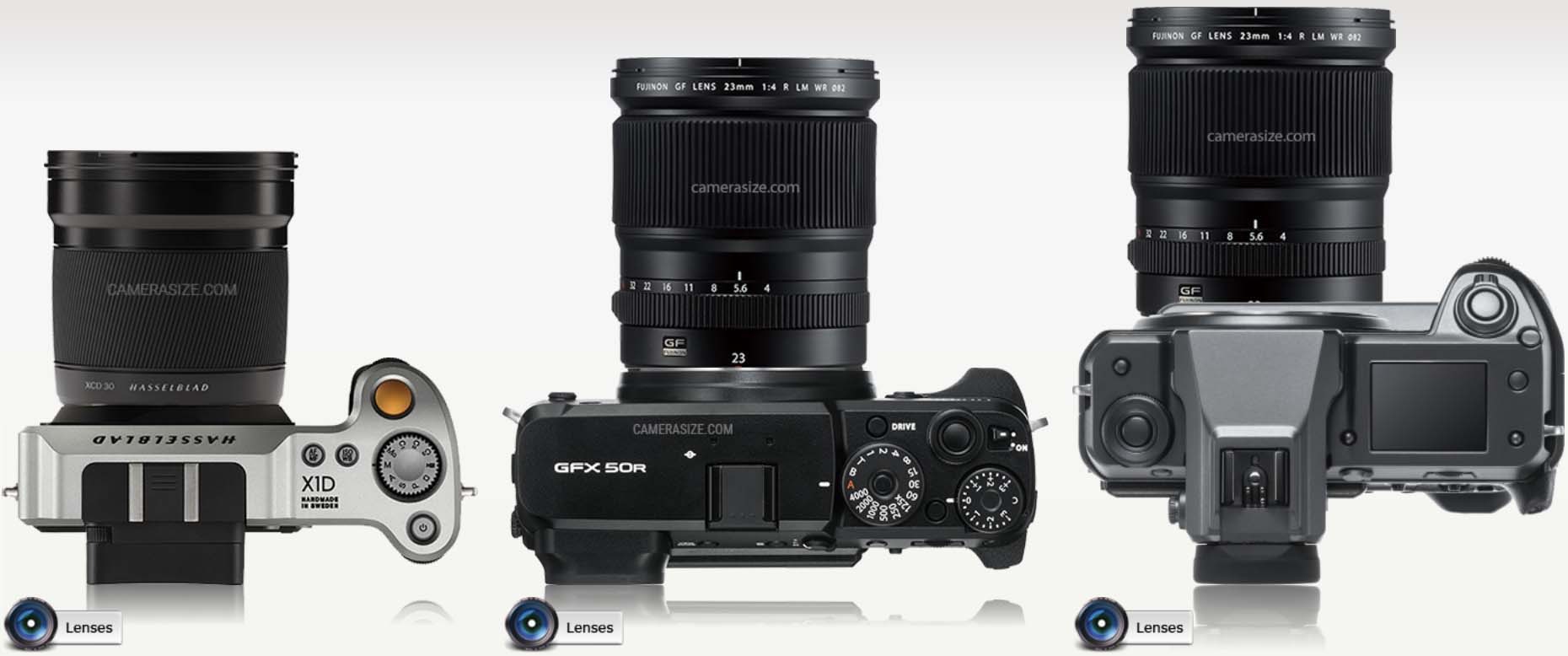 Hasselblad XCD 30mm f/3.5 $3,499.99



Hasselblad XCD 45mm f/3.5 $2,342.90
FUJIFILM GF 45mm f/2.8 R WR $1,699.00



FUJIFILM GF 63mm f/2.8 R WR $1,499.00
Hasselblad XCD 65mm f/2.8 $2,750.00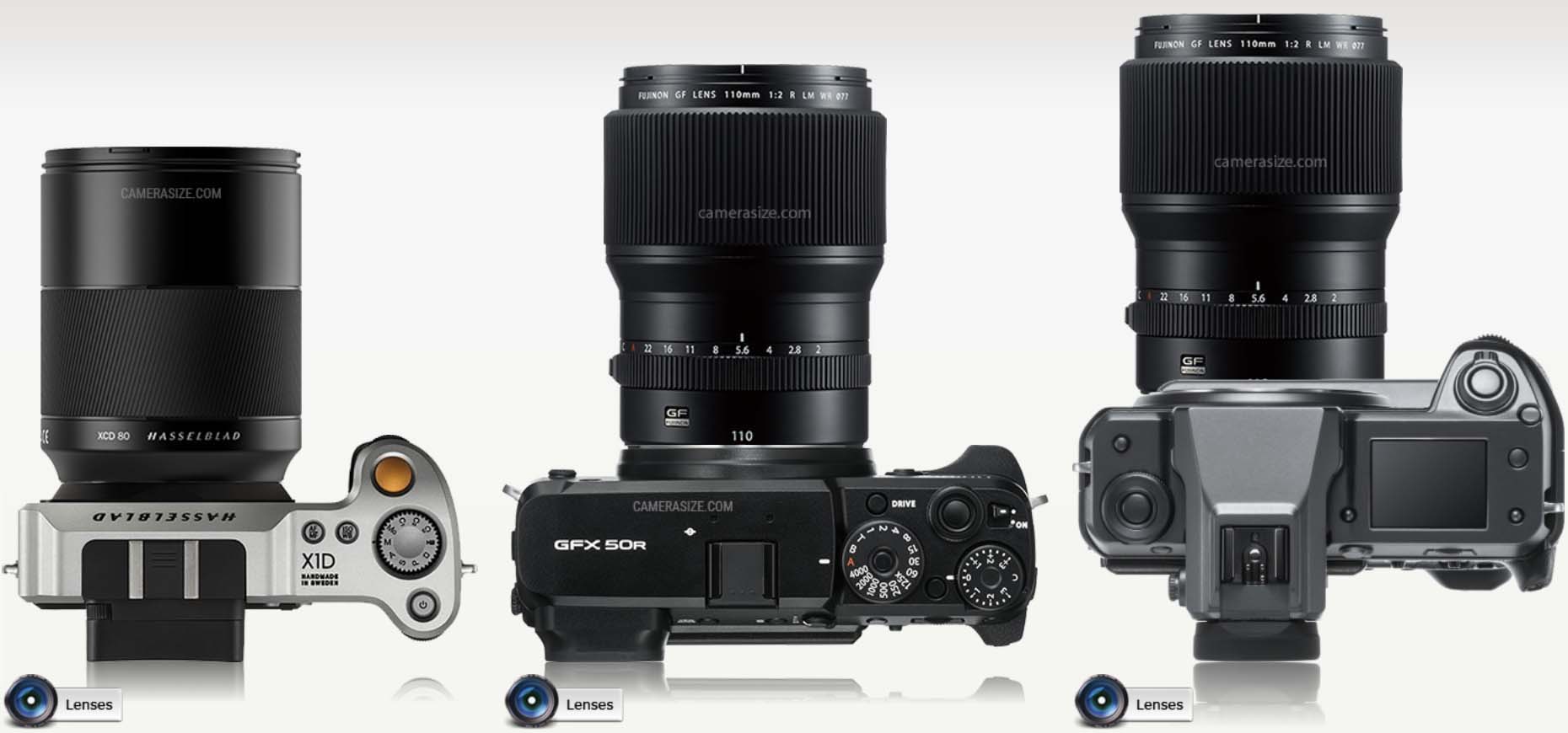 Hasselblad XCD 80mm f/1.9 $4,845.00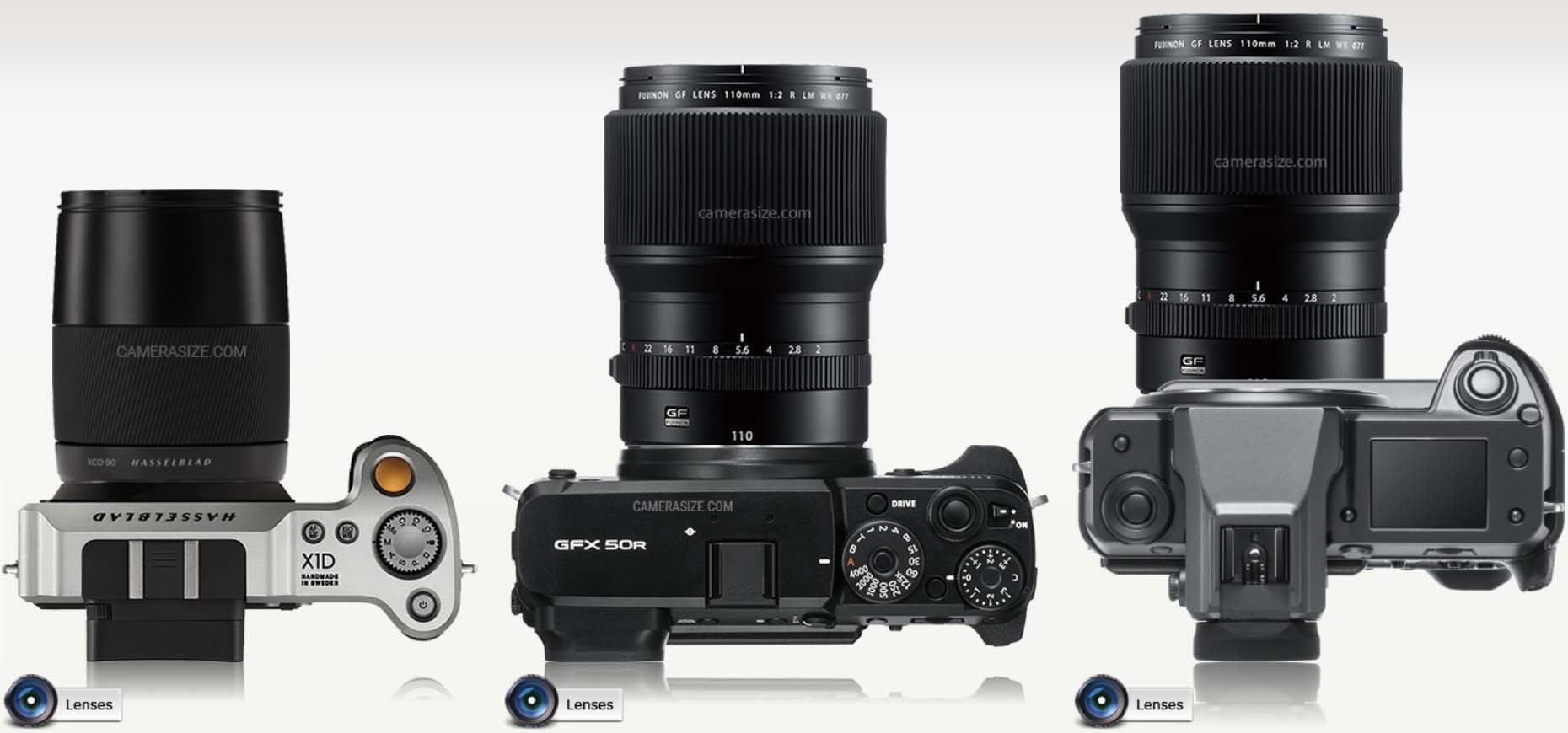 Hasselblad XCD 90mm f/3.2 $2,995.00
FUJIFILM GF 110mm f/2 R LM WR $2,799.00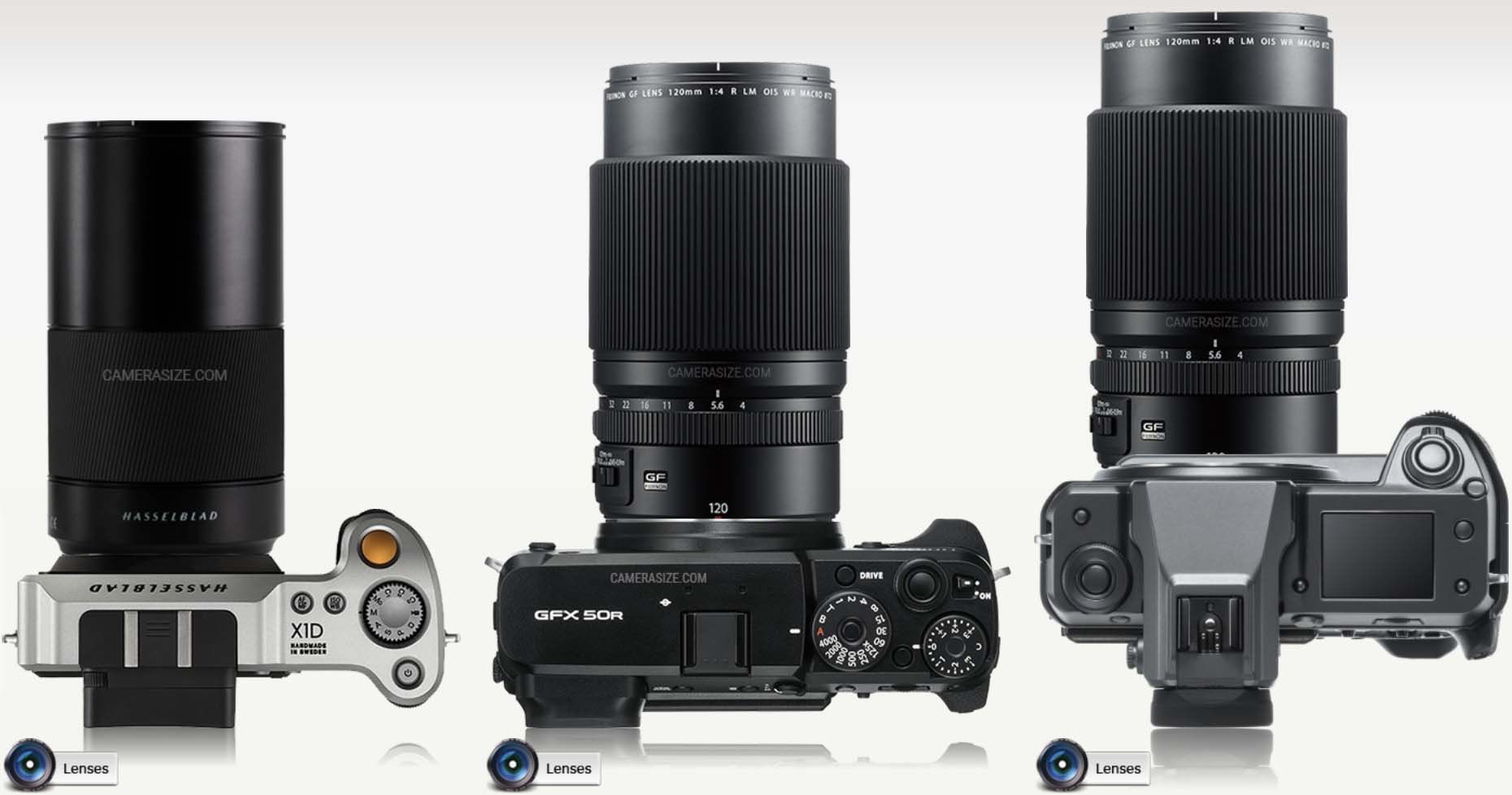 Hasselblad XCD 120mm f/3.5 Macro $4,495.00
FUJIFILM GF 120mm f/4 Macro R LM OIS WR $2,699.00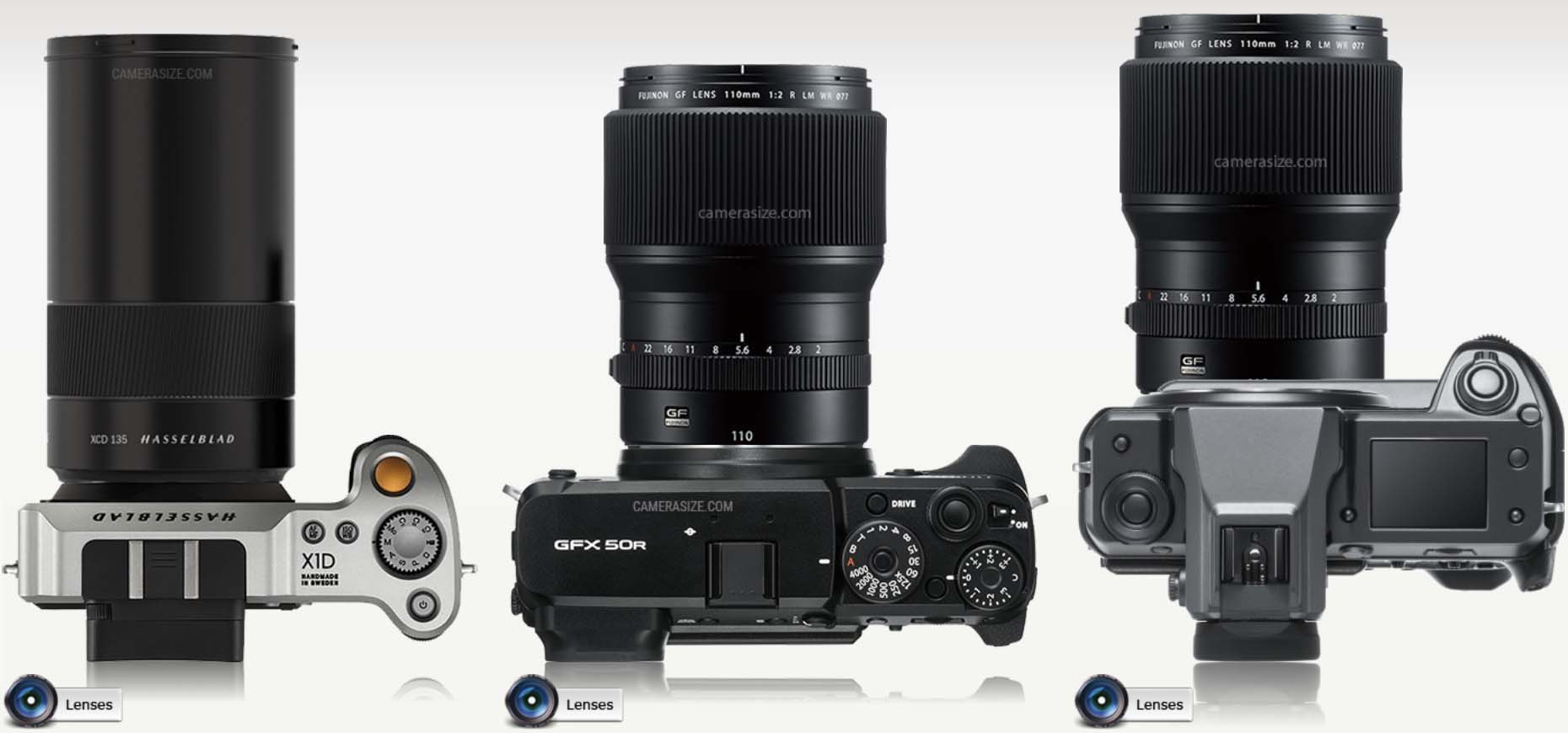 Hasselblad XCD 135mm f/2.8 $4,050.00
Hasselblad XCD 135mm f/2.8 Lens with X Converter 1.7x $4,845.00
FUJIFILM GF 250mm f/4 R LM OIS WR $3,299.00
Hasselblad XCD 35-75mm f/3.5-4.5 $5,175.00
FUJIFILM GF 32-64mm f/4 R LM WR $2,299.00
FUJIFILM GF 100-200mm f/5.6 R LM OIS WR $1,999.95
3rd Party So Far Only For Fujifilm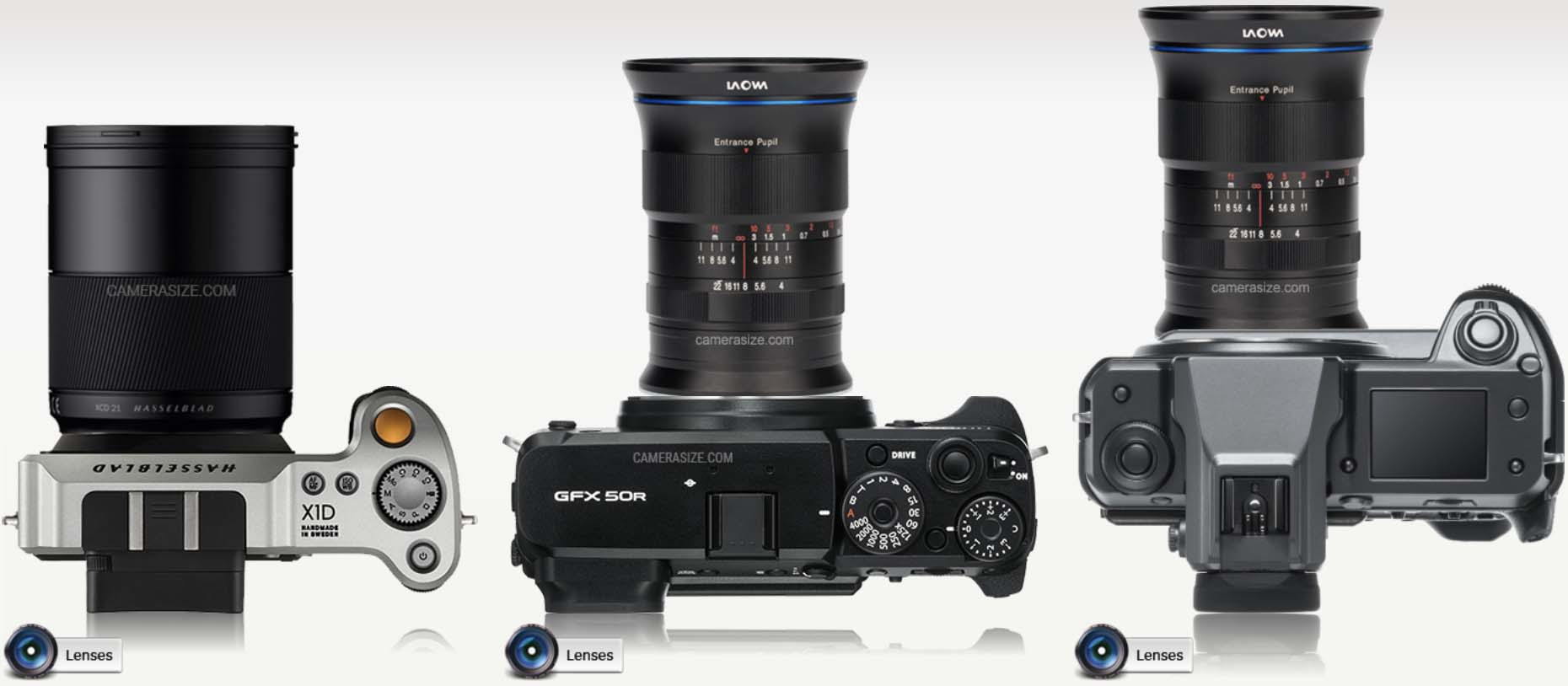 Laowa 17mm f/4 GFX Zero-D $1,249
Mitakon Zhongyi Speedmaster 65mm f/1.4 $799.00
Mitakon Zhongyi Speedmaster 85mm f/1.2 $849.00