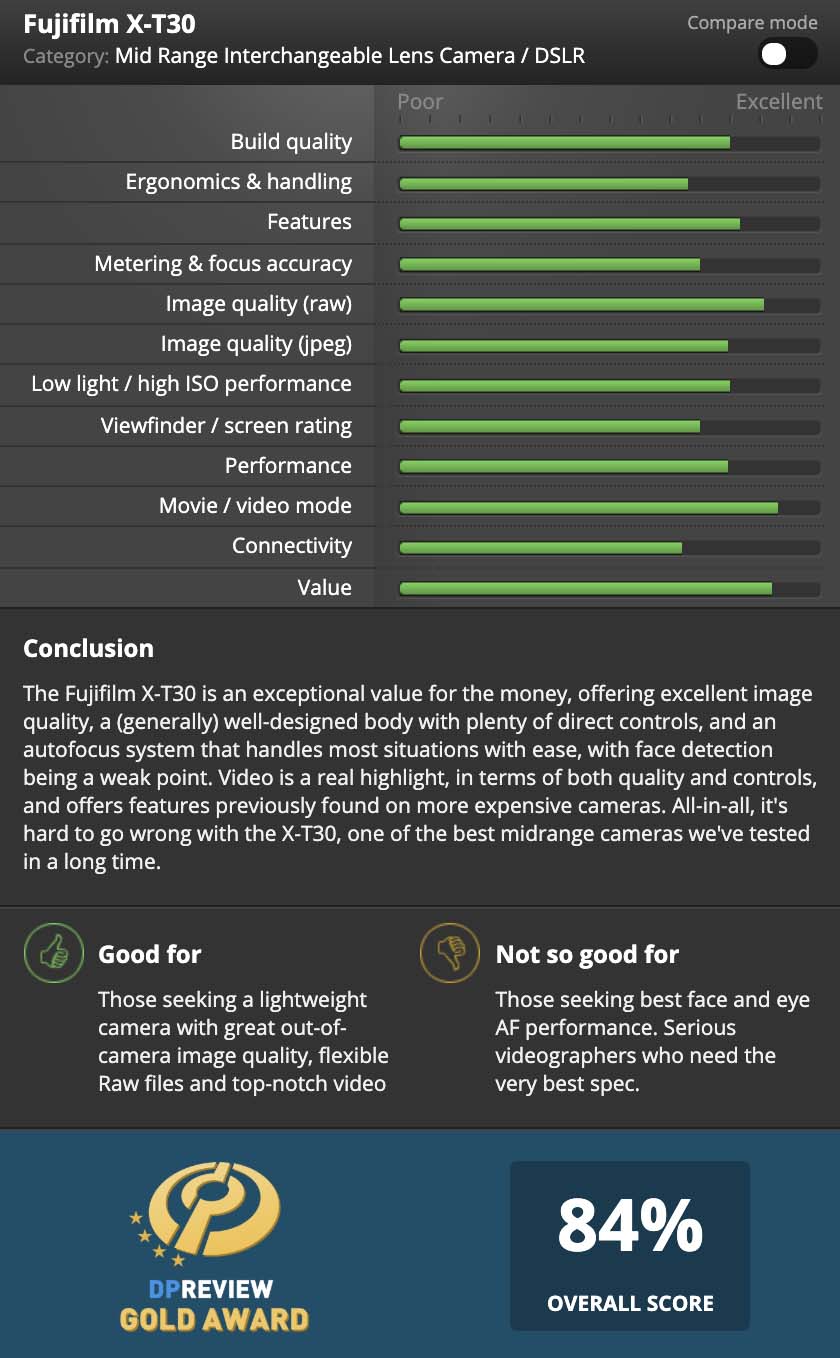 The Fujifilm X-T30 was reviewed by DPR a few weeks ago and it won a gold award because it does almost everything that the Fujifilm X-T3 does. You can read the full review here or see part of the conclusion below.
DPReview comparisons and conclusion:
The X-T30's closest competitor is the Sony a6400. The a6400's biggest advantage over the X-T30 is its autofocus system: its 'Real-time Tracking' is as good as it gets: just point the camera at your subject and it follows. Its face/eye detection is far more reliable, and allows you to choose your subject with far more accuracy. The a6400 has a larger EVF and better battery life than the X-T30, but we find its handling to be much less engaging than the Fujifilm. The X-T30's video is better, with no crop at 4K/30p and far less rolling shutter.

The Panasonic Lumix DC-G95/90 is an impressive beast, with in-body image stabilization (that works in conjunction with IS-equipped lenses), a large EVF and V-LogL support. The X-T30 wins in terms of autofocus, battery life and crop-less 4K video (here's why that matters). The Fujifilm is also about $200 less costly when both cameras are equipped with their respective kit lenses.

We've covered this earlier, but are likely some folks trying to choose between the X-T30 and X-T3. The latter has a sturdier, weather-sealed body, better ergonomics, 4K/60p capture, 10-bit internal recording and a large, ultra-high res EVF. Unless you really need those features, save the $600 and get the X-T30 instead.

The Fujifilm X-T30 is an exceptional value for the money, offering excellent image quality, a (generally) well-designed body with plenty of direct controls, and an autofocus system that handles most situations with ease, with face detection being a weak point. Video is a real highlight, in terms of both quality and controls, and offers features previously found on more expensive cameras. All-in-all, it's hard to go wrong with the X-T30, one of the best midrange cameras we've tested in a long time.
What we like
What we don't

Superb out-of-camera JPEGs
Malleable Raw files
Excellent 4K video quality with no crop
Compact and well-built
Solid AF speeds and good subject tracking after setting adjustment
Tilting touchscreen LCD
Burst speeds up to 20 fps using electronic shutter
Support for F-Log and 10-bit 4:2:2 output
Settings for stills and video can be made independent of one another
Full set of Film Simulation modes, including Eterna
USB-C port can be used for data transfer, charging and headphones

Poor placement of Q.Menu and AF joystick

*

More flexible LCD would've been nice for video use
Video autofocus subject tracking only works for faces
10 minute limit for 4K capture
EVF a bit small
Face detection can lose and rediscover faces rapidly, making it hard to select the desired subject
No in-body image stabilization
External battery charger not included
Fujifilm X-T News, Rumors, and Collaboration
Fujifilm X-T Owners Group
Fujifilm X-T Page
Follow Fujiaddict on Facebook, Twitter, Instagram, and YouTube
Fujifilm X-T30: B&H Photo / Amazon / Adorama
Fujifilm X-T3: B&H Photo / Amazon / Adorama