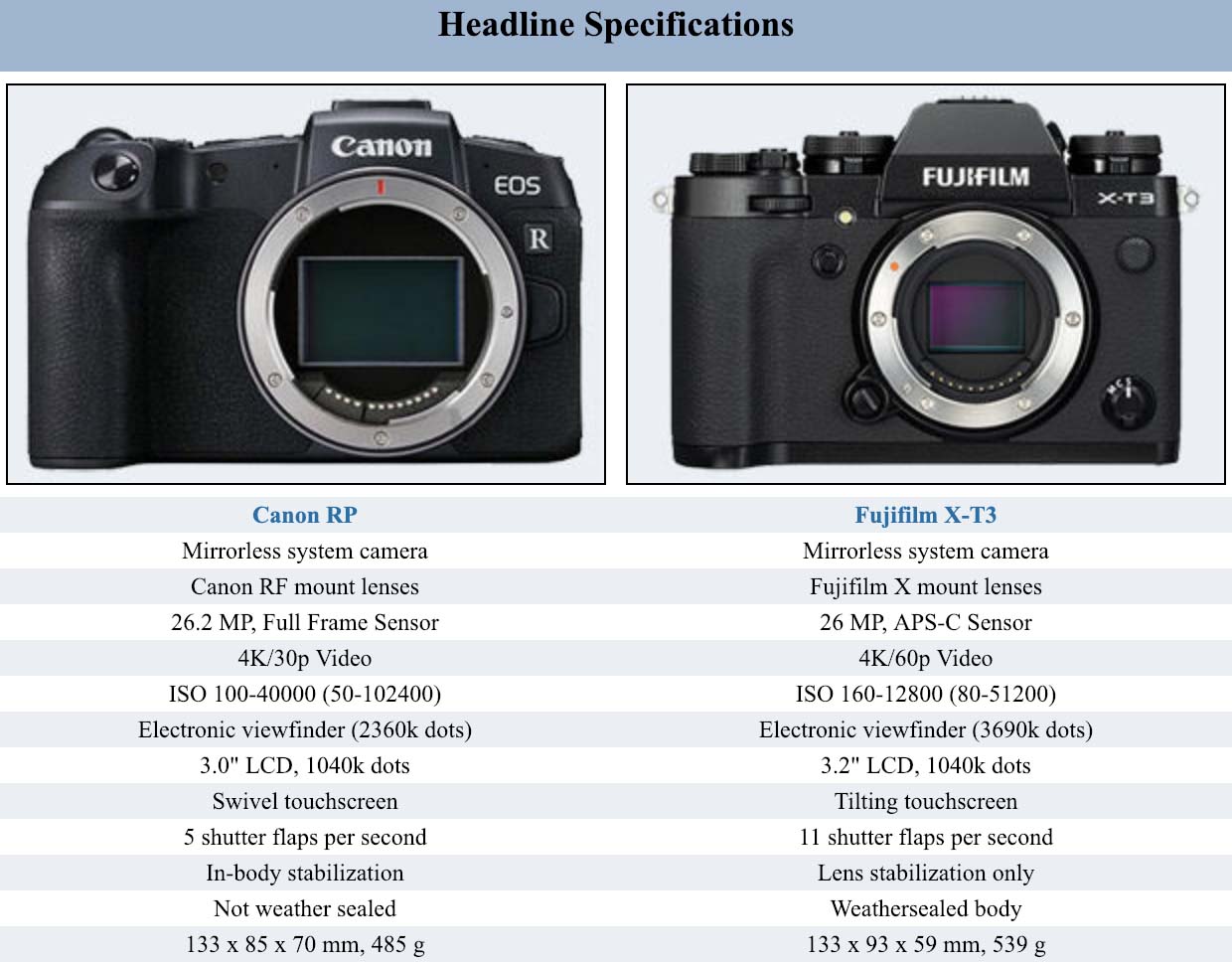 Apotelyt added the Canon RP to their comparison tool and it is very compact. Canon is offering an amazing value with the Canon RP and it might hurt Fujifilm X-T3 sales due to its low price if it performs well. You can see the comparison at Apotelyt and the advantages from Apotelyt are below.
Advantages of the Canon EOS RP:
Better moiré control: Has an anti-alias filter to avoid artificial patterns to appear in images.
Better image quality: Features bigger pixels on a larger sensor for higher quality imaging.
Richer colors: Larger pixels generate images with better, more accurate colors.
More dynamic range: Capable of capturing a wider spectrum of light and dark details.
Better low-light sensitivity: Can be used in poorly lit environments and still produce good images.
More flexible LCD: Has swivel screen for odd-angle shots in portrait or landscape orientation.
More selfie-friendly: Has an articulated screen that can be turned to be front-facing.
Less heavy: Is lighter (by 54g or 10 percent) and hence easier to carry around.
Sharper images: Has hand-shake reducing image stabilization built-in.
More modern: Is somewhat more recent (announced 5 months after the X-T3).
Reasons to prefer the Fujifilm X-T3:
Maximized detail: Lacks an anti-alias filter to exploit the sensor's full resolution potential.
Better video: Provides higher movie framerates (4K/60p versus 4K/30p).
More detailed viewfinder: Has higher resolution electronic viewfinder (3690k vs 2360k dots).
Larger screen: Has a bigger rear LCD (3.2″ vs 3.0″) for image review and settings control.
Faster burst: Shoots at higher frequency (11 vs 5 flaps/sec) to capture the decisive moment.
Better sealing: Is splash and dust sealed for shooting in inclement weather conditions.
Better studio light control: Has a PC Sync socket to connect to professional strobe lights.
Greater peace of mind: Features a second card slot as a backup in case of memory card failure.
More heavily discounted: Has been on the market for longer (launched in September 2018).
Fujifilm X-T3 News, Rumors, and Collaboration
Fujifilm X-T Owners Group
Fujifilm X-T Page
Follow Fujiaddict on Facebook, Twitter, Instagram, and YouTube
Fujifilm X-T3: B&H Photo / Amazon / Adorama
Fujifilm X-T3 + 18-55mm: B&H Photo / Amazon / Adorama