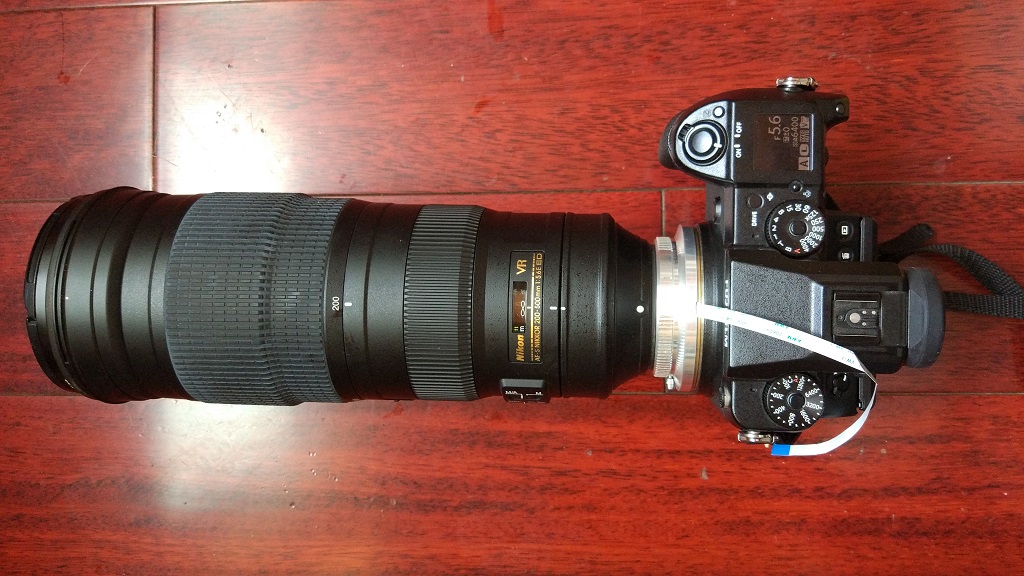 Steelsring announced that their Nikon AF adapter for the Fujifilm GFX is approaching completion and shared a picture of one of their prototype along with its features:
Main features:
Support Nikon AF-S G and E type lens, and AF-P G type lens contrast based AF in GFX 50s body.
Electromagnetic diaphragm of type E Lens can be controlled by GFX 50s body, allows AF in full open ( decided by camera body ) and step down for exposure.
Diaphragm of G type lens was manually controlled by aperture ring of adapter in real-time,  so AF is conducted in real effective aperture as exposure. AF performance may be bad in low light/contrast, benefits are 1) Real aperture priority,  2) and totally no noise of consistent IRIS moving.
Full EXIF info recording. ( For G type lens, only the current max open aperture was displayed and recorded, no way to adjust it ).
Lens VR was support and effective on demand.
FX mount version adapter is in design phase, maybe with better performance of PDAF and auto aperture control version for your choice.
Note:
Support to AF-D type lens will be very limited, EXIF may works, but no AF absolutely.
They also released firmware updates for the Steelsring EF/FX and Steelsring GFX/FX.
For both EF/FX and EF/GFX, followings were updated:
1) Lens Image Stabilizer activation mode change: From always on after camera powered on to effective only when shutter button was half pressed and camera exposing.
2) Solved the problem that sometimes lens was identified as wrong lens.
3) Improve AF accuracy for all lenses, and AF speed for Canon EF 100-400 lenses
4) Disable lens parking in infinity end if an AF lens is set to MF mode during picture reviewing or camera powered off.
Additionally for EF/FX only:
5) PDAF performance update for
EF 35mm f/1.4L II
EF 50mm f/1.2L
EF 50mm f/1.4
EF 85mm f/1.2L II
Steelsring EF/FX 2.02 Download Here:
EF/FX v2.02 Firmware Download ( for Windows/PC)
EF/FX v2.02 Firmware Download ( for Mac)
Steelsring GFX/FX 2.04 Download Here:
EF/GFX v2.04 Firmware Download ( for Windows/PC)
EF/GFX v2.04 Firmware Download ( for Mac)