Fujifilm launches "instax SHARE SP-3", a smartphone-compatible printer capable of printing square format
Featuring new functions such as "My Template" for producing original prints
FUJIFILM Corporation (President: Kenji Sukeno) will launch the instax SHARE SP-3 (SP-3), a smartphone-compatible printers capable of printing images taken on smartphones on November 17, 2017. This is the new product in the instax SHARE series compatible with square format instax films.
In July 2016, Fujifilm launched the instax SHARE-SP2 (SP-2), a printer capable of the quick and easy output on card-sized instax film from a smartphone using an instax SHARE app*. Responding to customers' demand for a device that can produce instax prints of images shared among friends on social media or images adjusted for colors and ambience using image processing apps, SP-2 won significant popularity particularly among young people around the world.
The new SP-3 maintains the series' emphasizing on the quick and easy printing of high-quality images, and becomes capable of printing images in the instax SQUARE Film format which has been well received since its launch in May this year. Photographers have long considered compositions that take advantage of the square format's 1:1 aspect ratio as an artistic expression, and smartphone users have adopted the general use of square format images on social media apps such as Instagram**. Recently, growing numbers of people are expressing themselves through square format images, which are carefully produced on all aspects from composition considerations through to the editing and processing of the final image. These images are widely shared on social media. With SP-3, anyone can enjoy printing and giving images to a friend or putting images on the walls of their room.
The SP-3 app has been designed with various features that make it even more convenient to enjoy selecting and printing images from a smartphone. The unique functions of SP-3 including the "Collage template" feature which allows a maximum of nine different photographs to be incorporated into a single image enabled by the square format printing and the "My template" feature which lets users superimpose text on images before printing. "My template" comes equipped with 11 different templates in various modern reminiscent of magazine and CD covers. Users can freely adjust various settings including the font color, size and transparency, and produce fashionable images that could be used for profile photos or even displayed on the wall. The SP-3 app can directly access and select photographs stored on social media and storage apps. In addition to Instagram, Facebook** and weibo***, the SP-3 now also includes compatibility with Dropbox***, GooglePhotos*** and Flickr***. Users can easily search for their favorite images and the expanded functionality allows for wider range of image choice.
The SP-3 is available in two color variations, white and black. The sophisticated artistic design has a high-quality look. Overall, the device, which is suitable for various different occasions, is thin and compact, designed with a sharp profile of intersecting surfaces. Fujifilm has also ensured that the design of the SP-3 apps' display screens makes it easier for anyone, even first-time users, to operate the printer and complete the whole process of selecting and printing images.
Fujifilm will continue providing its customers with the opportunity to enjoy printing their images taken by smartphone, expanding the world of the instant photo system "instax", which enables users to enjoy on-the-spot printing of photos, and deliver the fundamental photographic values of "shooting, preserving, displaying, and gifting" photos.
*

The app is a free app compatible with Android phones and iPhones. On Android phones the app can be downloaded from Google Play and on iPhones it can be downloaded from the App Store. Android and Google Play are trademarks and registered trademarks of Google Inc. iPhone and App Store are trademarks of Apple Inc. The iPhone trademark is used in Japan under licence from Aiphone Co., Ltd.

**

Facebook is a trademark and registered trademark of Facebook Inc. Instagram is a trademark and registered trademark of Instagram Inc.

***

weibo is a Chinese social network service provided by SINA Corporation. Dropbox, GooglePhotos and Flickr are online storage services provided by Dropbox Inc., Google Inc. and Yahoo Inc. respectively. GooglePhotos on Flickr are trademarks and respective trademarks of the respective companies providing the service.
Details
1. Product name
FUJIFILM "instax SHARE SP-3" (white / black), a smartphone-compatible printer in the instax SHARE series
2. Launch date
November 17, 2017
3. Features
(1) Print out images taken by their smartphone simply and quickly (images are sent to the printer over wireless LAN using a dedicated app).
(2) Produce high-resolution images at 318dpi (SVGA: 800 x 800 pixels) with an organic EL array exposure head.
(3) Feature "Image Intelligence", FUJIFILM's image processing software, which automatically adjusts for optimum brightness at the time of printing.
(4) As exposure and output take place simultaneously, new images can be printed after the short interval of only approximately 13 seconds.
(5) The SP-3 app includes a wide range of additional new templates
[1] My Template

These templates allow the user to adjust the color, size and transparency of fonts when adding their own text to the images they wish to print, giving users a wide range of self-expression options.

[2] Collage Template

These templates are designed for incorporating between two and nine images into a single print. This function can be used for various purposes such as putting memories of a special day together into a single image or for collecting together photographs on a single theme.

[3] Split Template

This template divides a single image into two instax prints, and is designed for printing beautiful photographs, such as scenic pictures, at double the usual size.

[4] SNS Template

This is a template for printing images that have already been uploaded to various social media such as instagram and Facebook. Using the template, images from social media can be printed out together with a profile picture or the number of "likes", maintaining the social media mood in the print.

[5] Real-Time Template

This template includes various supporting information in the image such as the date, time and location of the shot as well as the weather, temperature, and humidity. This function is recommended for uses such as creating holiday memories or recording a baby growing up.
(6) TheSP-3's sharp, thin, compact design makes it suitable for use by everyone everywhere.
(7) The SP-3 uses rechargeable battery (micro USB terminal). Approximately 160 images can be printed on a single charge.
(8) The SP-3 can also be used to print the image data sent directly from a FUJIFIIM digital camera*4.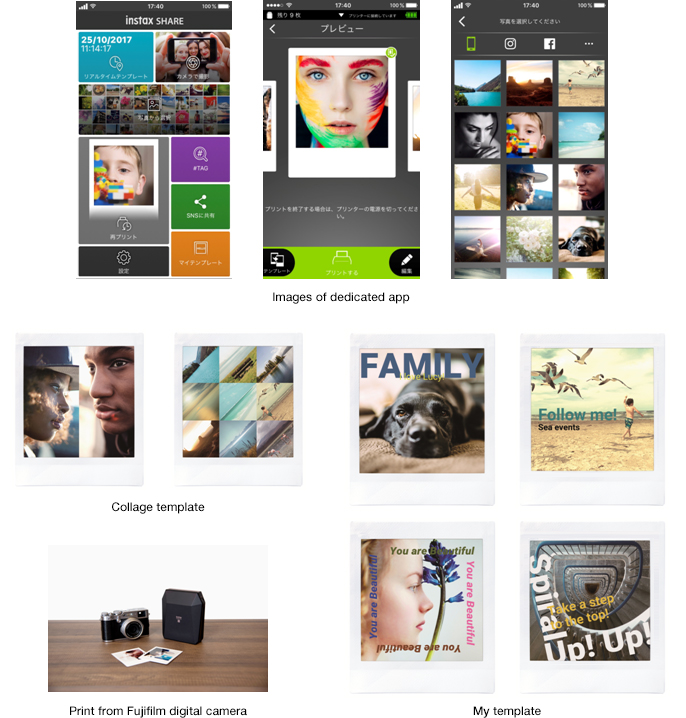 4. Principal specifications of "instax SHARE SP-3", a Smartphone-Compatible Printer in the instax SHARE Series
Film
Fujifilm Instant Film instax SQUARE Film (available separately)
Film size
86mm x 72mm
Picture size
62mm x 62mm
No. of printed pixels
800 x 800 dots
Print resolution
318dpi
Print tones
256 tones for each RGB color
Interface
Applicable standards:IEEE802.11b/g/n
Frequency:2412MHz-2462MHz (11ch)
Supported image formats
JPEG, PNG
Print time
After receipt of the image data has been completed, the process of recording the data and outputting the film takes approximately 13 seconds
Power supply
One NP-50 rechargeable battery
Max. no. of printed images per charge
Approx. 160 prints(based on Fujifilm test conditions)
Power consumption (per print)
3W
Operating temperature range
+5°C – +40°C (no condensation)
Dimensions & weight
116mm x 130.5mm x 44.4mm (excluding projections), 312g (without battery and film pack)
Note that specifications and performance are subject to change.
*4

Fujifilm Digital Camera "X Series" and "GFX Series"
Compatible models (compatibility schedule:X-E3 (From November 17), X-T2/X-T20/GFX 50S (From late November), X-Pro2/X-T1/X100F (From late December)
Via Fujifilm