I have owned a few "weather resistant" Fujifilm cameras over the years, but the Fujifilm GFX 50S is probably the first that I would feel comfortable shooting in the rain or getting splashed. The camera just feels solid and all the the seals feel and look robust especially between the lens to the camera. The Not Another Bikini Shoot project definitely required a well sealed system because as you can see in the production video above it was a wet time. I'm just waiting for the first water challenge GFX video to show up.

Lordofthelens (ultimate.photography) did a third party lens test that is worth a look. You can find his gallery here. In a Facebook post he states:
"First of all I would like to apologize for not so artistic images – they were taken for a purely technical purpose. Second – those are not straight OOC but processed to taste. Now for the actual photos: Samyang 8mm fisheye designed for crop, circumcised by me, at F8 – works as a circular; Samyang 12mm fisheye designed for FF, at F8 – produced a bit of vignetting in the corners but quite fixeable as you see; Sigma 8-16mm orthogonal wideangle designed for crop, at 16mm, F8 – same, but here we see mushy corners, not really useable; 200mm F1.8 wide open, no problem here! That's number 7 & 8 in the gallery, hope you follow? Now Sigma Art 35/1.4 – no problem at F8, a little vignetting in the corners wide open but easily manageable. Number 11 is getting rather extreme, actually 600mm – Sigma 120-300mm at 300mm + 2x Canon extender wide open, looks good. Numbers 12-16 are 85mm 1.2 wide open, tasty ey. Number 17 is crazy – actually 1200mm wide open, 2 stacked 2x extenders on the 120-300 at 300 end, not too bad. Next three are with Sigma Macro 150mm/2.8 wide open, looking good! Number 23 is a Cyclop, looking good. Next three are 3 different custom-made monocle lenses, very nice! And finally the ancient Tessar off a bellows 'pocket' camera from the 30-ies at 5.6. All working!!! Issues? No AF, need to pre-set distance and aperture with EOS ones by wire, and maybe the extreme corners with, say 85/1.2 are not quite as sharp as the centre. Worst – extreme wideangle is obviously a problem, maybe the 17mm TS-E should work, but I do not have it to try. Questions welcome! Finally i would like to express huge thanks for letting me play with the camera to Photo & Video International!"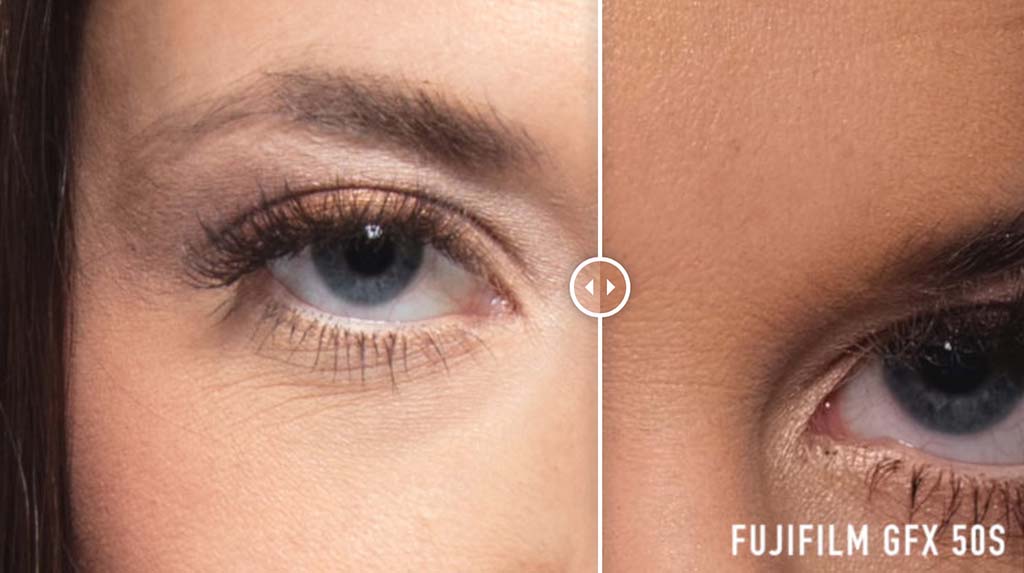 Finally DIY has a few Fujifilm GFX50S vs Canon 5DS R comparison photos to check out. Some might not like the lens choice, but the GFX has been bested the 5DS R and Sony a7RII in every head to head that I have read. You can see their comparison here.
Join our Fujifilm GFX Owners Group and join in the discussion, also follow the GFX Owners Page to get more tailored news on Facebook and join Fujiaddict on Facebook and Twitter.