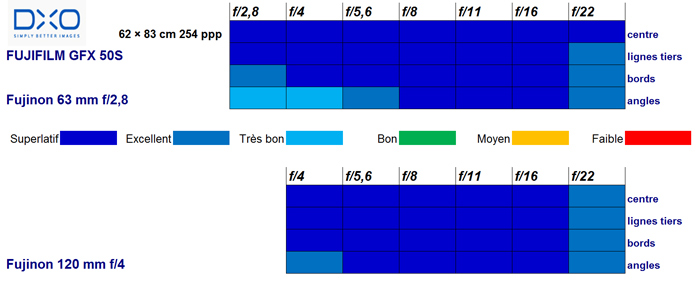 From the test shots available photographers have judged the Fujinon 120mm f/4 the sharpest launch lens followed by the Fujinon 63mm f/2.8. It's good to see that independent testing has verified these opinions. Lemondedelaphoto doesn't go into their testing methodology, but this is the best objective measure we have had yet.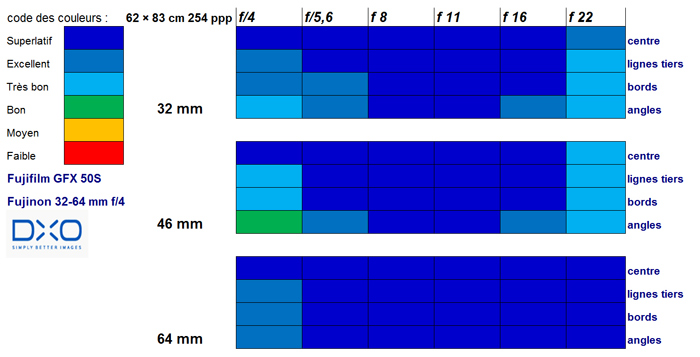 Even the Fujinon 32-64mm f/4 performs very well, with 64mm being superb. I would like to see a lot more samples from this lens at 64mm, but I just might have to change my pre-order if I decided I don't need the extra light gathering power of the 63mm.
"Overall, the sharpness is always high, from very good to superlative depending on the focal length and the apertures. Only the corner area is sharply recessed at the focal length of 46 mm on the zoom, in all cases the dive is superlative over the field at medium apertures. The vignetting is never annoying and the chromatic aberration almost invisible, the only small defect noted is a cushion distortion (-0.15%) a little strong on the 120 mm macro that can be used to make reproductions of Works of art or documents, a little post-processing will be required."
Lemondedelaphoto also has some good sample photos with 100% views so check out their full translated article here.
Fujifilm GFX 50S
B&H Photo / Amazon / Adorama
Fujinon GF 63mm F2.8 R WR
B&H Photo / Amazon / Adorama
Fujinon GF 120 f4 R LM OIS WR Macro
B&H Photo / Amazon / Adorama
Fujinon GF 32-64mm f4 R LM WR
B&H Photo / Amazon / Adorama