Fujifilm and their affiliates dumped a lot on us last night. So after reading and watching everything I have condensed all the new things we now know about the Fujifilm GFX.
Things I learned about the Fujifilm GFX Tonight
New Super Fine JPEG Mode which offers very little compression which can be 25MB
One of the reasons for using focal plain shutter was to reduce the price of GF lenses
There is an Electronic Shutter that lets you shoot wide open at 1/16,000 a second
There is an Electronic First Curtain Shutter that reduces the lag time of shooting, but when shooting faster than 1/1,000 a second you can have vignetting and bokeh can be affected.
The Sub Monitor is reversible and customizable so you can make it make it black on white or white on black in addition to changing what it displays 128 x 128 pixel.
The body is 825g with battery and memory card
425 AF Points 17×25 (More than the Fujifilm X-T2)
117 AF Point 9×13 grid is also an option, which we reported earlier
AF points can follow orientation
There is Face/Eye Detect
Rapid AF mode that prioritizes AF over accuracy
Touch Screen – you can drag the AF point if you don't like the nub. You can also pinch to zoom or double tap.
1.8 or 3fps depending if electronic first-curtain shutter is enabled (8 shots uncompressed 13 losslessly compressed back to back)
The battery grip only takes one extra battery
Two extra magnification factors when manually focusing
You can create TIFF 8-bit files in camera out of your RAWs
You can bracket up to 9 frames now in 1/3 increments up to 3 stops and you can change the sequence they are taken
3.69 million dot OLED finder (0.85x magnification) -4 to +2 diopte
2.36 million dot rear LCD
Ultrasonic dust removal system finally
256-zone metering system
60 minutes max exposure
H.264/MPEG-4 AVC compression, 48KHz linear PCM stereo audio, Full HD movies at 36Mbps bitrate with a max clip length of 30 minutes.
14-bit RAW
Both Slot are UHS-II
802.11b/g/n Wi-Fi with GPS via your phone which never works right sadly
Battery should be good for 400 shots
Shutter should be good for 150,000 shots
The H mount adapter lets you use the lens shutter up to 1/800 sec.
You can tether with the current tethering software
Low light focusing is slow, but accurate and manual focusing is slow because you can turn the focus ring a lot. (Maybe they can do a FW update so you can adjust manual focus speed.)
Multiple reports that HSS should work with EF-X500 so I invested wisely…
12,800 ISO is usable and 6,400 doesn't need grain reduction!
One photographer compared AF speed to the Fujifilm X-T1, which would be amazing!
Shipping February 23rd
The Damage… Ouch!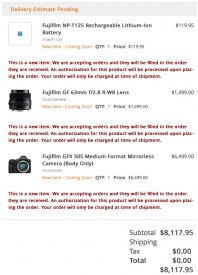 If you have the time to sort through everything you can check out the full post of everything GFX/X100F/XT-20/XF50 here or even rewatch the Japanese launch even here.
Please join our new GFX owners page and GFX owners group to keep up to date with latest GFX news and help support the site by using our affiliate links.
Fujifilm GFX B&H Photo/Amazon/Adorama
Fujifilm X100F B&H Photo/Amazon/Adorama
Fujifilm X-T20 B&H Photo/Amazon/Adorama
Fujinon XF50 F2 WR B&H Photo/Amazon/Adorama